Chet Wisniewski has been in the security space since the late 1980s and, as principal research scientist for Sophos, spends his days figuring out how to compromise systems in order to protect them. As a well-known public speaker, Chester has mastered the art of conveying cybersecurity to audiences all over the world. Away from his day job, he has a passion for food and cooking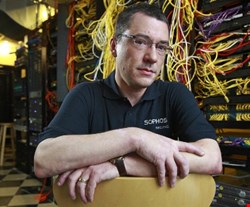 How did you get into the information security industry?
I started out hacking my way into/onto the internet/ARPANet in the 1980s. This enabled me to learn a lot about how our communications networks evolved from dial-up modems and x.25 to our modern LAN and broadband technologies. In the late 1990s, there was finally enough demand for good guys in network security for me to move into a full-time security role. I have no formal education, so my entry to the profession was mostly due to amazing mentors who recognized my knowledge and potential and helped me get paid work to prove it.
What's the worst thing about your job?
It is a toss-up between spending 40 hours a month on an airplane and having to repeat the same basic security advice after a seemingly unending stream of data breaches. Computer security is a complicated and immature subject and sadly that leads to a lot of bad advice being propagated and confusion that leads to inaction.
What's the most interesting thing about information security?
Our role is to figure out how to use things in ways they were never intended to be used. We are almost the opposite of IT at most organizations. IT tries to figure out the quickest and easiest way to build something that will solve some business need or pain. Infosec professionals have to determine all the ways that a system might be abused and find the most effective way to limit that risk. It's like having a real life job as MacGyver!
What's your proudest achievement?
Being involved in the information security community in ways that I can give back. I have long been involved in the local security community in Vancouver and this has provided me many opportunities to be a mentor. I also speak at a lot of regional Security BSides events around the world giving me the chance to share my experience with people all over the globe.
What's your passion outside of infosecurity?
I'm a bit of a foodie. I travel frequently which provides a fantastic opportunity to experience food from almost every culture. I love to cook and bake when I have a few days at home and my passion is for quality and authenticity. I grow many of my own herbs and vegetables and cultivate my own yeast for baking.