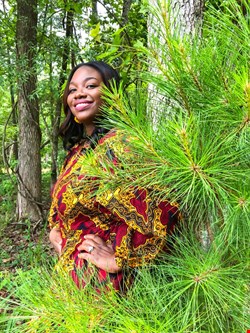 Talya Parker has worked with companies like Deloitte, Nike and the highly-regarded Georgia Tech Research Institute, part of the Georgia Institute of Technology. She leads cross-functional teams through stakeholder management, requirements development and risk mitigation strategies in order to meet privacy and security regulatory requirements. Talya is also the founder of Black Girls In Cyber, an organization that creates awareness about career opportunities in the field and coaches other minority women seeking to transition into the industry. During her spare time, Talya enjoys the beach, traveling all over Europe, Asia, and the Caribbean, and visiting local coffee shops
What was your route into the cybersecurity and data privacy field?
It was via my friend, Racquel Valbrun. In 2014, I was seeking a transition out of banking and she encouraged me to pursue a new career path. She saw the market need, recognized my drive and helped me land an internship with her boutique consulting firm. I quit my full-time job and landed a data privacy role. After just four months, I had enough experience to attract all the 'Big Four.' I chose an opportunity with Deloitte's cyber-risk practice and, almost eight years later, all my success in the field of cybersecurity is attributed to that one career-defining moment.
What's the best thing about your job?
The flexibility to pursue projects interests me. Cybersecurity is huge; I've had the opportunity to be involved in governance risk and compliance, identity and access management, cloud, strategy and privacy-related work. I will never be comfortable, there will always be more to learn and that's what I love most.
If you could change one thing about information security, what would it be?
The way organizations recruit talent. This has affected diversity gravely. I would implement a framework that removes unconscious bias, enhances strategic partnerships with minority groups/organizations, implements recruit, train and retain processes…the list goes on. We can do better. We must do better.
Who do you admire most in the industry?
There are two amazing women that I admire currently. The first is Tarah Wheeler – my friend and mentor. She is a total badass! I read her book Women in IT and how she contributes and thrives in spaces is something one can only dream of.
The other is Yatia 'Tia' Hopkins, founder of Empow(H)er Cybersecurity and a brilliant contributor to the cybersecurity space; captivating, humble and smart as a whip. These women are inspirational and keep me motivated on my own personal journey.
Quick-fire Q&A
What's your favorite book?
Quiet: The Power of Introverts in a World That Can't Stop Talking by Susan Cain.
Who would play you in a movie about your life and career?
Gabrielle Union. No specific reason other than I adore her!
What's your guilty pleasure?
Binge watching an awesome series on Netflix and/or Hulu – in my comfy pajamas on the couch. It's the only time I can shut my brain off, which gives me the reset I need to go about my busy week.