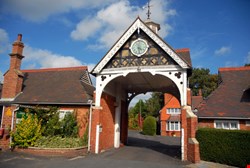 Defense company Raytheon has teamed up with The Smallpeice Trust and several major security bodies to find Britain's most talented hackers in a 720-school competition.
Four pupils from the Grimsby Institute of Further & Higher Education were named the new Cyber Security Challenge Schools champions at Cyber Games 2.0 in Cheltenham last week.
The 14-17 year-olds were tasked with cracking encoded systems and freeing a hostage trapped within a secret location in Cheltenham College.
The Cyber Security Challenge Schools Programme, now in its second year, is funded by the Cabinet Office, and delivered in association with Bletchley Park, CompTIA, eskills UK and others.
James Jackson, programme leader for Computing at the Grimsby Institute said the Institute's students are actually more familiar with hardware-based tasks.
"The afternoon was exactly the type of activity we are interested in at the Institute - adaptive learning which creates scenarios and situations where you have to come up with solutions yourself rather than simply being taught what is right and wrong," he added.
"It's great to be able to show our students potential careers like cyber security through exciting, hands on exercises and they have got a huge amount from their time at the Cyber Games and being involved in the Cyber Security Challenge."

Cabinet office minister Francis Maude added that the government was thrilled at the attendance.
"This helps show young people that cyber security can be a great career for school children to aspire to," he said in a statement. "In funding this innovative and exciting Cyber Games, we aim to help these talented teams take their aptitude for code-cracking into their working lives and consider careers in cyber security."
Vincent Blake, head of cyber at Ratheon, added that the firm's ambition is to "instil the seed of cyber creativity within each of the participants".
"The company wants them to be inspired to become tomorrow's innovators," he said. "Through which they may seek to work in Raytheon to help the company protect our national security in the future, or to benefit the broader cyber security community."