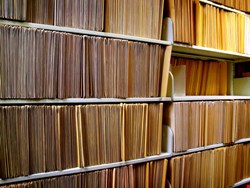 The ISO has issued the new standards to guide companies in providing information to industry regulators because irregularities in financial management, ethical dealings, information disclosure, and transparency of decisions have become common, the standards body said in a statement.
The first standard, ISO 30300, is the umbrella standard that includes the fundamentals and vocabulary common to the whole records management series, while the second, ISO 30301, specifies requirements for records management. Further standards in the ISO 30300 series are under development, the organization said.
"The ISO 30300 series offers the methodology for a systematic approach to the creation and management of records, aligned with organizational objectives and strategies. Managing records using an MSS [management system standard] supports cost-effective operational processes, such as storage, information retrieval, information re-use, litigation, and due diligence", commented Judith Ellis and Carlota Bustelo, leaders of the working groups that developed the standards.
ISO explained that the factors driving organizations to implement records management systems include: intensified commercial competition, technological change leading to e-commerce and e-government, speed of communications and dissemination of information through the internet, increasing complexity of the regulatory environment, increased expectations of citizens for accountable organizations, and heightened risk from the external environment.