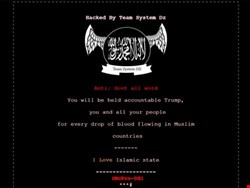 In the wake of news this weekend about a cyber-attack on the British government, the latest target is the government of Ohio.
Ohio Governor John Kasich's website, 10 Ohio state websites, and two servers have been affected, according to the Ohio Department of Administrative Services. Governor Kasich's website had a pro-ISIS message on its homepage. "You will be held accountable, Trump. You and all your people for every drop of blood flowing in Muslim countries." Kasich was a Republican candidate for Presidential nominee last year.
The attackers of the Governor's website claim to be ISIS. A group calling themselves Team System DZ attacked the other Ohio government websites, including the Ohio Department of Rehabilitation and Corrections, and the website for Karen Kasich, the state's First Lady. It's still unclear whether or not Team System DZ claims to be affiliated with ISIS.
The Ohio government targets have been acting quickly to deal with the affects of the attack. A spokesperson for Governor Kasich said: "We immediately began to correct it, and will continue to monitor until fully resolved."
Tom Hoyt, spokesman for the Ohio Department of Administrative Services, added: "all affected servers have been taken offline and we are investigating how these hackers were able to deface these websites. We also are working with law enforcement to better understand what happened."
Other Ohio state websites affected by the attack include the Office of Workforce Transformation, the Office of Health Transformation, Casino Control, Medicaid and the Inspector General.
Governor Kasich's website was defaced with the same message that the website for the town of Brookhaven, New York was defaced with, according to the New York Post. A web server attack in Maryland also appears to be linked.