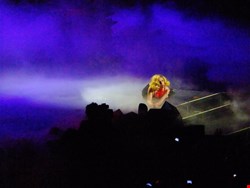 And, as any good celebrity should, she took to Twitter to talk about it, sparking a collective eye-rolling in the blogosphere. However, the hoopla over the Gaga appears to be unjustified: the single has hit No. 1 on the dance charts after a disappointing open.
"Applause," her first release since 2011, was released August 13 after several portions of the single found their way online. "Wanna grab some shovels and f??k up some hackers?", she tweeted to her 40 million followers when the leaks were made. She later said, "A POP MUSIC EMERGENCY IS UNDERWAY 911."

"Hackers leaking songs before they're released is detrimental to our marketing plan, so I thought it would be a funny way to tell everyone that we're OK over here in the Haus of Gaga," she said, speaking to French radio station NRJ, as reported in the Sophos Naked Security blog. "We got our team together very quickly to be ready for the release."

The song saw just 218,000 downloads in its first week, hardly a smash. But reachhing the top of the dance charts and a performance at the MTV Video Music Awards on Sunday has ignited a buzz – hackers or no hackers – that would seem to bode well. As for the "hacking" charges, Sophos security researcher Lee Munson noted that "uploading a music track hardly warrants the term 'hackers' for those who were responsible," but added, "I would hazard a guess that the single is now far more embedded in the public consciousness because of the leak. Is this proof that not all 'data breaches' are bad for business?