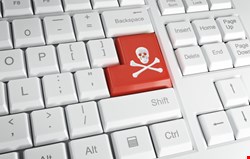 Ryan Ackroyd (known online as Kayla, a 16-year-old girl persona), Jake Davis (a.k.a. Topiary), Mustafa al-Bassam (a.k.a. tFlow) and Ryan Cleary (a.k.a. viraL) are due to be sentenced in Southwark Crown Court in the UK later this week. They each face between one and four counts and have admitted to carrying out a 50-day series of attacks in 2011 on a host of high-profile targets, including the CIA, the Pentagon, the FBI, Sony Pictures, game developer EA, the US Air Force, the News International media group and Britain's Serious Organised Crime Agency (Soca), among others, Reuters reports.
Cleary is also convicted of owning child pornography.
Ackroyd, 26, Bassam, 18, Davis, 20, and Cleary, 21, have all plead guilty to a variety of charges that include stealing thousands of emails, credit card details and passwords from computer servers, defacing websites, crashing victim's websites with distributed denial-of-service (DDoS) attacks and running a massive botnet that controlled up to 100,000 computers at a time. The crime spree was carried out "for their own amusement," the court heard, and not for any of the political hacktivist reasons that motivate LulzSec's progenitor, Anonymous.
The group routinely posted hacked information on the LulzSec website, Pastebin and file-sharing sites, and bragged about their exploits on Twitter.
"It's clear from the evidence that they intended to achieve extensive national and international notoriety and publicity," Prosecutor Sandip Patel said, saying they thought of themselves as modern-day pirates. In the Sony Pictures case, LulzSec accessed the servers hosting Sony Pictures and obtained the email addresses, birth dates and passwords of more than one million users.
The defense presented mitigating factors that the judge will consider before sentencing. Cleary has Asperger's Syndrome and the defense noted that he has lived an isolated life without friends, and wrestles with a compulsive disorder. Similarly, Davis had an "isolated childhood marked by several tragic deaths in the remote Shetland Islands off the coast of Scotland," Reuters reported.
"Without friends, he sought companionship in cyberspace, a world that is artificial and potentially corrosive. He was sucked into a chain of events," said Davis's lawyer, Simon Mayo.
The now-disbanded group's members are slowly being picked off by law enforcement. LulzSec's mastermind, US-based Hector Xavier Monsegur (a.k.a. Sabu) was arrested in June 2011 and promptly became an FBI informant. In August of last year, two Lulzsec hackers were arrested in the US for their part in the Sony Pictures hack. Another, a hacker named Jeremy Hammond, was arrested last fall in conjunction of a hack that led to the publication of the 'Global Intelligence Files' by WikiLeaks, and included about 5 million emails and the private information of 860,000 Stratfor clients. And the BBC reported that a 24-year-old Australian has also been arrested and accused of attacking and defacing a government website.