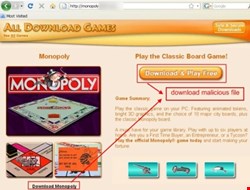 Websense's email honeypot technique detected over 30 000 Monopoly spam messages on 21 September alone. By exploiting its popularity, social networking techniques are being employed to 'invite' users to play the online board game. It then provides a link to the fake Monopoly game download site, which in fact downloads malicious software such as Trojans onto the PC of the unsuspecting user.
Carl Leonard, security research manager of Websense commented: "[Social networking] has revolutionised our entertainment experiences, but because of the very real risk of malicious software, it's crucial that people have a security solution that can protect both proactively and in real-time. You might opt to 'take a chance' on the Monopoly board - but you wouldn't want to with your security."
As one of the most popular games across the world, Monopoly is currently the most commercially-successful board game in history, with 485 million players worldwide. More recently, fans of the much-loved game have begun to play it online regularly, including the large scale Monopoly world championships that take place every four years.