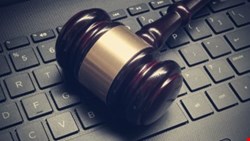 Two Russian nationals have been charged in connection with stealing millions from defunct crypto exchange Mt Gox – with one of them allegedly using the money to help found the notorious BTC-e exchange.
Alexey Bilyuchenko, 43, and Aleksandr Verner, 29, were charged with conspiring to launder around 647,000 bitcoins from their hack of Mt. Gox back in 2011. Bilyuchenko is also charged with conspiring with Alexander Vinnik to operate BTC-e from 2011 to 2017.
Bilyuchenko, Verner and their co-conspirators allegedly gained unauthorized access to a Mt Gox server to access the bitcoin and then launder the virtual cash through two other online bitcoin exchanges.
Read more on the Mt Gox saga: Online currency Bitcoin loses most of its value due to exchange hack.
The pair are also accused of using an advertising contract with Bitcoin brokerage service New York Bitcoin Broker to launder more of the money, by requesting the latter to make wire transfers into offshore accounts in the name of shell companies.
New York Bitcoin Broker is thought to have transferred around $6.6m in this way between 2012 and 2013.
Mt Gox was forced to cease trading in 2014 after the long-running theft was revealed.
However, Bilyuchenko allegedly worked with Vinnik and others to operate the BTC-e exchange from 2011 until it was closed by the authorities in July 2017. Serving over one million global users, it helped to launder billions for cyber-criminals, drug gangs, corrupt public officials and others, according to the Department of Justice (DoJ).
Vinnik was arrested in Greece several years ago and is now is now awaiting trial in California on charges of running BTC-e, having been detained in France for money laundering offenses. He's also thought to have been instrumental in helping to develop the Locky ransomware variant.
It's unclear where Bilyuchenko or Verner are currently living, but they're unlikely to face trial if based in Russia.