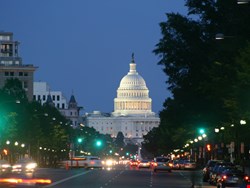 Sens. Sheldon Whitehouse (D-RI) and Jon Kyle (R-Ariz.) are circulating a draft bill on Capitol Hill that tries to find a middle ground between two pieces of legislation – the Democratic-backed Cybersecurity Act, which would put the Department of Homeland Security (DHS) in charge of setting and enforcing federal cybersecurity mandates, and the Republican-sponsored Strengthening and Enhancing Cybersecurity by Using Research, Education, Information, and Technology Act (SECURE IT), which stresses information sharing and voluntary cybersecurity guidelines for industry.
The compromise bill would put the DHS in charge of a program to encourage, but not require, private sector operators of critical infrastructure to improve their cybersecurity, according to a report by The Hill newspaper.
Under the draft, critical infrastructure firms that meet "baseline performance goals" would receive liability protections, government funding, and technical assistance, the newspaper noted.
An aide to Sen. Joe Lieberman (I-Conn.), a sponsor of the Cybersecurity Act, told the newspaper that the compromise bill is "encouraging" because it "recognizes the importance of protecting the cyber system of our most critical infrastructure." The aide added that the senator remains a "staunch advocate" of cybersecurity mandates.