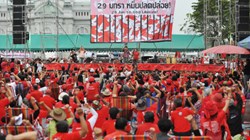 The Thai army is stepping up its surveillance of websites suspected of breaking the country's anachronistic lese majeste laws, following a coup there last month.
Police Major General Phisit Pao-in, head of the Technology Crime Suppression Division, now has an additional 20 recruits to help his team search the web for anyone defaming revered monarch King Bhumibol Adulyadej.
"Lese majeste is our priority," he told
AFP
.
"Since the coup, we were asked to intensify our surveillance and to focus on threats to national security."
Transgressors face a maximum of 15 years in jail if convicted of insulting the king, queen, heir or regent.
The military has blocked over 200 websites since the coup because they were deemed a "threat to national security". They included the Daily Mail, because it posted a video of the crown prince, according to the report.
Lese majeste convictions are growing in Thailand and are thought to be frequently used by the authorities as a way of suppressing free speech by the back door.
In a famous case back in 2012, Thai webmaster Chiranuch Premchaipoen was handed an eight month suspended sentence and a 20,000 baht (£405) fine for user comments made on the independent news site she managed – Prachatai.
Commentators at the time warned the judgement would lead to an increasing prevalence of online self-censorship.
"Chiranuch's sentence is an alarming bellwether that the Thai government does not value free opinion and expression of its citizens," said Sue Gunawardena-Vaughn, director at Freedom House, in a statement at the time.
Even before the military took over, Thailand's track record on web freedom was patchy at best.
In January 2012, it became the first country in the world to embrace Twitter's controversial self-censorship feature.
Twitter offers nations the option of blocking tweets that break local censorship laws within a country.