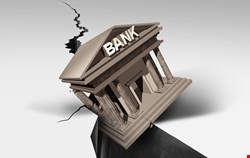 Pro-Ukrainian hacktivists have disrupted Russian banking services after targeting a key telecoms supplier.
A group calling itself "Cyber Anarchy Squad" announced the news on Twitter over the weekend.
"On June 8, the Ukrainian anarchist cyber army blew up InfoTel, which supplied its communications services to hundreds of other companies, a quarter of which were Russian banks," it said. "As a result of the attack - their clients fell into severe depression. And what's next? Let's wait..."
Read more on Ukrainian cyber-attacks on Russia: Ukrainians DDoS Russian Vodka Supply Chains.
The service provider JSC Infotel, which facilitates access to inter-banking system the Automated Electronic Interactive System (ASEV).
Security researcher Kevin Beaumont reported the news on Mastodon, claiming the Ukrainian group had "remotely wiped" Infotel's infrastructure.
An update from the company for partners and customers reposted by Beaumont confirmed the news.
"We inform you that as a result of a massive hacker attack on the network of JSC Infotel, part of the network equipment was damaged. Restoration work is currently underway. The deadlines for the completion of the work will be announced additionally."
Beaumont said that after two-and-a-half days of outages, the firm had finally restored BGP routing, although outages continued for customers due to routers malfunctioning.
According to Ukrainian reports, the incident meant Russian banks and credit unions were not able to access the banking system or make payments.
The hacktivist operation appears to have been timed to coincide with the long-awaited launch of the Ukrainian counter-offensive.
This isn't the first time the Russian banking system has been targeted by pro-Ukraine hacktivists.
In December 2022, the country's second-largest bank revealed it was hit by a DDoS attack described as its largest ever.
Pro-Russian hacktivists have also been active during the course of the war, hitting not only targets in Ukraine but also allied countries.
Cyber-attacks on UK financial institutions increased by 81% since the invasion of Ukraine, according to a January report.