History has a habit of repeating itself.
This saying is particularly true of the information security industry, and also this editorial. Three years after I last bid you all a temporary goodbye as I went off on maternity leave to have my son Wilbur, I'm leaving once again to bring Mini @InfosecEditor 2.0 into the world. As a result, I am temporarily leaving Infosecurity in the very capable hands of my deputy editor Michael Hill.
The last three years have been nothing short of groundbreaking for the industry and Infosecurity has surfed that wave spectacularly, if we may say so ourselves. Our outreach has exponentially grown, our community has developed and strengthened and our content output is something we continually improve and invest in. I adore my job and it's what makes this – albeit temporary – goodbye just as hard as the last.
As a tip of my hat to the last three years, please indulge me in a trip down memory lane as I share some of my personal highlights as editor of the very best information security magazine and news site out there.
5: Learning How Much You Love Infosecurity
Earlier this year we launched a reader survey and we asked you, our fabulous readers, to tell us how much you love us, what you like, what you don't like and what you want more of. When the results came in and it transpired that you actually love us a lot, it was incredibly humbling. Everything we do, we do so with our readers in mind. Our website, our magazine, our events, our webinars, our online summits – they are all carefully crafted with our audience at the heart of every decision we make. So getting confirmation that we're hitting the spot makes it all worthwhile.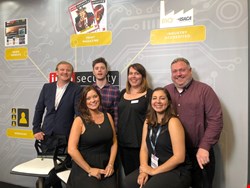 4: Interviewing Mitnick
It may have taken me 12 years to meet and interview the 'world's most famous hacker' but it was absolutely worth the wait. I very rarely get nervous before interviewing, but as I stood waiting for Kevin, I felt genuinely anxious. I needn't have. Kevin was an absolute joy to interview and within a couple of hours he was performing magic tricks for me and had called his girlfriend to join us for a chat. I actually feel privileged to have heard his incredible story first-hand and get a glimpse into his incredible vault of knowledge. I hope you enjoy reading all about it on page 18.
3: Launching Women in Cybersecurity Events
In 2017, I had the idea to run a women in cybersecurity networking breakfast at Infosecurity Europe. I didn't know if it would get much traction but I took a leap of faith. I never imagined it would be as successful as it was. Hundreds of people (mostly women, but a big shout out to the men that came!) joined us and the event proved to be insanely popular. I repeated the event this year and it was even more successful, with the feedback even more heartwarming. I love being a woman in this industry and it was wonderful to be in a room with like-minded people.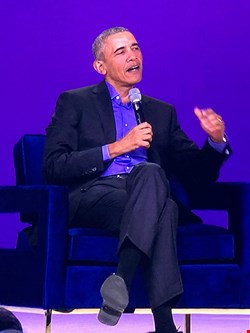 2: Barack Obama
When Okta approached me to attend its annual security conference in Las Vegas, with a note explaining that Barack Obama would be keynoting, it was an absolute no-brainer. Wild horses couldn't have kept me away. Sitting front row to listen to one of my heroes was truly overwhelming (you can read all about what Barack Obama had to say on page 44). Thank-you so much to everyone that made that trip so incredibly special. I couldn't have dreamt it up.
1: My Wonderful Team
As teams go, the Infosecurity Magazine team are the crème de la crème. We're a core team of nine (myself, Michael and Dan in editorial, Becca and Karina in marketing, James in sales and Phil, Kacy and Erin in the news team) but we also sit within the wider Infosecurity Group team (organizers of Infosecurity Europe and Infosecurity North America amongst other events). Our team members are not only talented, dedicated and really smart, but they're also easy to work with and just genuinely great people. A special shout out goes to my partner in crime, Becca. We've worked together on Infosecurity Magazine since 2011 and never have I worked with someone with more talent and more commitment. Together we've built Infosecurity into the powerhouse that it is today and I could not have done it without her. Thank-you B, you're the best.
Appropriately nostalgic, I'll sign off now, officially handing over to my noble steed, Michael Hill, who is currently making himself comfortable in my editor's chair. I'll be back in time for Infosecurity Europe 2019 so I look forward to catching up with many of you there.