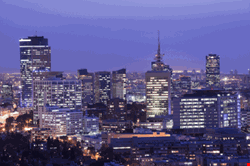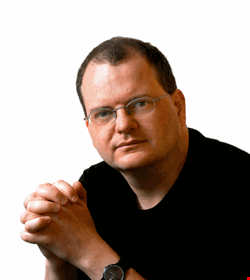 Gil Shwed, co-founder and CEO of Israeli security firm, Check Point, accepts nothing less than excellence. When Shwed achieves said excellence, he asks what's next. This is perhaps one of the many reasons behind the success of Check Point. It is also his mantra for employing staff. "Culturally, Check Point is a very challenging environment. Our key value is excellence, and that's the most challenging value, because we come to work every day and ask 'what can we do better?'."
When asked what he looks for in an employee, Shwed's answer is simple: "They have to be smart, and they have to strive for excellence". There's that excellence word again. While Shwed emphasizes the company's focus on results, he also stresses that Check Point houses a lot of passion. "[Our] people are very emotional about what we are doing", he says.
If its results he wants, then its results he got when, in 2010, Check Point achieved one billion dollar annual turnover (it's amusing to think that when he founded Check Point in 1993, his goal was $3m).
"I never set myself a completely numeric goal. The quality of the organization is what is important to me." Having said that, Shwed recognizes that numbers "are a good measure of quality, and being the CEO of a public company, I definitely understand and like numbers. By themselves, however, numbers are never my goal." When the $1bn mark was reached, "we thanked the employees when we hit that mark, and then said, what's next?"
So what is next? "Firstly, creating a unified security environment. Secondly, providing more and more security to customers, and adding to our software blade architecture", he says without hesitation. This is a man who knows exactly what he wants.
3D Security
The Check Point Experience is an annual gathering of Check Point employees, partners and clients. This year in his keynote, Shwed announced Check Point's 3D security concept, which he describes as a "vision beyond a product".
Information security, he declares, "needs to become a business process which will enable our business". In order to do this, he explains, security needs to step away from being all about technology and focus on the business needs through policy implementation – involving the people – and consolidating security for better control and enforcement.
"It's our responsibility to promote trends and visions, not just products", says Shwed. "We are going to develop blueprints for security that, we think, are going to help our customers. If we can help them with that vision, and develop some methodologies they can use by analyzing their policies and risks, we can sell them a product."
"It's our responsibility to promote trends and visions, not just products"
Innovation is something that this CEO takes very seriously, needing to stay ahead of the competition. "We use lots of different incentives to push our people into innovating", Shwed explains. Check Point staff also spend a lot of time listening to their customers. "We have to stay connected to what people need. Our customers tell us what they like, and what they don't like".
"The combination of internal innovation, self-belief in what's right, and a lot of customer interaction helps us understand where the potential lies and what the market needs. Then we can create something new."
The Royal We
When Shwed uses the term 'we', he means it quite literally. In fact, learning of his day-to-day activities is certainly impressive. "I'm very hands on", he says. "I built many of the Check Point systems myself, so I know how they work and I care about them".
Shwed also thinks it important to talk to his staff, and stay on top of what is going on within the organization. "I'll ask people about what they do. I try to add value everywhere, not always successfully, but I'll always come up with new ideas, and say, why don't we do that?" If he doesn't get what he believes to be the right answers, Shwed "will go on to dig very deep".
He aims to meet with a random employee once a week, in order to keep in touch with the people and the business. "I ask people what their three-month, one- and two-year plans are. Immediately I'll see how that particular department is being managed. [If] a department is managed very well, all the employees will know what their tasks for the next three months are, and [will be able to share] the vision for the next year or two."
For Shwed, an average week in the office consists of several hours of routine meetings. The rest of his time is spent promoting new ideas, strategizing, brainstorming, meeting with customers and partners, and talking to employees throughout the company. Like most CEOs, he also spends a lot of time on the road, or in the sky as it may be.
Long gone are the early Check Point years, when Shwed spent 200 days a year on the road. He now spends a rather more modest – and manageable – twelve weeks a year travelling. "Last year, it was even less. I broke my leg and I had a new daughter", he says with a smile.
A Billion Dollar Idea
In the beginning, Shwed and his two co-founders did not have the luxury of cutting down on travel. In fact, between the three of them they ran the sales operation, the marketing, the product development and the R&D. "We pretty much got to $10m sales with no employees", he says proudly. It was not an easy ride, however, and Shwed remembers working 16-hour days away from home under an enormous amount of pressure.
Travelling in the early days of Check Point was all the more essential because of its roots in Israel. "We [were launching a product] in a small country where customers and the audience are not situated around us. We are completely isolated from a cultural and language standpoint." It was essential, says Shwed, to turn this into an advantage.
"Our grandparents came to Israel and had to start something from zero. There's nowhere else in the world where you will find such entrepreneurial spirit in the people"
While Shwed and his colleagues had to contend with designing a product for customers outside of Israel, their home country did have its advantages. "Israel is a big hub for technology. Why? Because it's one of the only things we can export and use. We don't have a regional market and the countries around us are very poor, or not at peace with us, or both. The main thing we do is export technology. Between 1993 and 2000, the whole technology market grew. Israel became a great place for start ups − particularly in the security field".
It might be fairly obvious, but I had to ask Shwed why Israel is home to such an innovative and prosperous information security hub. "We have a lot of security awareness in Israel. Also, once a company like Check Point creates that notion, others will follow." Shwed also credits Israel's good education system and entrepreneurial spirit for the successful infosec hub. "Our grandparents came to Israel and had to start something from zero. There's nowhere else in the world where you will find such entrepreneurial spirit in the people".
The Time is Now
When he was only ten years old, Shwed became interested in computers. Two years later he had a summer job developing in a software company. He started an almost full-time job as a system administrator in the University of Jerusalem at the age of 14. "I got very bored in high school, so I started learning in the university". Between the ages of 15 to 18, Shwed balanced his job with his academic studies, and at 18 he joined the army having not finished a degree.
Shwed discovered his interest in security during his time spent in the army. "I went into the army, like every person in Israel, and was recruited to the computer space. One of the challenges I had during my armed service was how to connect to very classified systems and networks without creating a security problem. That's where the idea for a firewall and the underlying state for inspection technology came from."
For the next few years, the idea would remain just that, as Shwed, despite aspiring to be an entrepreneur, decided that it was not the right time to launch a security company. "I figured out that going to big financial institutions or governments and convincing them that they have a network security challenge was doable, but not very exciting." To add to that, Shwed was adamant that he wanted a civilian company, and didn't want to run a business based on the government or military.
Two years later, in 1993, the internet was born and people started to use it commercially. It was then that Shwed decided the time was right to launch a business, focusing completely on security. "There were two or three solutions before us, but none were a product like ours. We needed to make a product which was extremely simple, came on one diskette, which every user could use."
Revolution, Not Evolution
When asked how starting a business in 2011 compares to starting one in the early 90s, Shwed says it is so very different. "A lot has changed. The real challenge now is having a revolutionary idea, and most start-ups don't have that. Many of them have great ideas, but not revolutionary − not an idea with real potential to create something that would change the world, or at least your definition of that."
The systems needed to launch a start-up today are more structured, Shwed explains. "There's much more venture capital, and advertising your product is easier with the internet. On the other hand, there are way too many ideas in technology today, and in security in particular. You're competing with at least a thousand new ideas every year."
When Shwed founded Check Point in 1993 he did not have an exit plan, and that is one thing that has not changed. "We wanted to run a business that would be our own, that we'd be happy with every day, that would be leading technology. If you read our business plan from 18 years ago, we had a nice vision of securing the internet, starting with a firewall and expanding to other areas. Now, we're not just securing the internet, we're securing the entire enterprise, but the internet is still the core."
"We're not just securing the internet, we're securing the entire enterprise, but the internet is still the core"
Will the internet ever be secure, though? And how does Shwed keep himself motivated working toward a seemingly impossible goal? "My main motivation is to learn more, do more, continue to be challenged. The fact that we need to evolve with the challenges is good for us. Overall the internet is not a bad place, it's just a place that needs more and more security."
The Future
Shwed is a man whose regrets are eclipsed by his rationality that he did the best he could with the knowledge he had at the time. Looking at how successful Check Point is, I'd say he did very well indeed.
"Every day I think about things that I could have done better, behaved better towards people, hired different people, things like that. But, I don't have any major regret – overall, I think things went well. I judge myself based on whether − with the information that I had at the time − I could have done things differently."
Although the early days of Check Point were challenging and exhausting, Shwed remembers the time fondly. "We were more thoughtful and strategic thinkers back then than we are today. We really believed that every step we made would make a difference. We didn't have room for mistakes, so everything we did we thought through very thoroughly." In retrospect, he concludes, "Strategically, we did the right things, so I'm not regretting that."
Shwed's co-founders, Shlomo Kramer and Marius Nacht, both left Check Point for "personal reasons, to start taking care of their kids and families". Kramer left in 2003, and realized within a few years that what "he was really interested in was running and starting a software business", so he founded Imperva, another infosec company. Nacht left Check Point in 2008 to pursue the full-time job of taking care of his four children and family.
Unlike his co-founders, Shwed "can't imagine" a life without Check Point. "It could happen, I've never said I'm definitely going to be here forever", he continues, although having spent an hour with him, I struggle to imagine it. "As long as I'm challenging myself, finding it interesting, and am contributing to the company", he is happy where he is. "It is my lifetime project", he admits, "and I find it very hard for me to imagine myself without Check Point". Don't I just believe it.