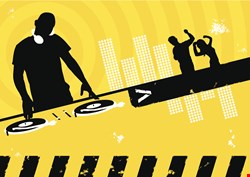 At a time of widespread social restrictions, economic difficulties and concerns surrounding both physical and mental health, it is always heart-warming to hear stories of people taking action to help bring some positivity, community spirit and humor to others – particularly when it is for a good cause.
Three individuals who are currently doing exactly that in the information security industry are Marc Avery, CISO and founder of Cyber Chain Alliance, Chris Hepple, senior marketing manager at Trend Micro and Sean Atkinson, director of security assurance at Secarma – the three co-founders of Cyber House Party.
Cyber House Party is a not-for-profit and volunteer-led virtual event created in response to COVID-19 and focused on fundraising for UK charities including Mind and NSPCC, with 100% of donations going directly to charity via Virgin Giving. It is supported by various individuals and organizations within the information security industry.
The first Cyber House Party was held in June of this year and the second iteration of the event is taking place on Thursday 29 October. Registration is now open.
Infosecurity spoke with Marc, Chris and Sean to learn more about the Cyber House Party and hear what attendees can expect from the event next week.
What is Cyber House Party and what has inspired you to organize the upcoming event?
Cyber House Party was launched in June 2020 at a time when many in the UK cybersecurity community would meet in London during the week of Infosecurity Europe, BSides and many other industry events. With restrictions imposed by COVID-19, Cyber House Party set out to unite the UK cybersecurity community during a challenging time and, through a virtual event, collectively raise money for UK charities, who themselves have suffered from absent and vital fundraising events this year.
We adopted an approach to the event which fuses informative content with humor and live music to help stimulate the audience in ways that other events may not. The balance between entertainment and delivering useful cyber-content is something we have paid a lot of attention to.
What are Cyber House Party's key goals and what do you hope to achieve?
We aim to:
Contribute to the wellbeing of the UK cybersecurity community
Help get more people into cybersecurity careers
Provide a platform of exposure for UK not-for-profit organizations
Collaboratively fundraise for UK charities
What themes and topics will be featured and what type of content can attendees expect on the night?
We will be discussing mental health with representatives from the industry and ex-military veterans. We have a couple of sessions on inclusion and neurodiversity, which are aimed at breaking down some of the barriers for people interested in a cybersecurity career.
We will also try to dispel the myth of black-hooded hackers and have our own version of Room 101 (Cyber Room 404) where industry experts present their rants to our panel of judges. What's more, our resident expert 'Cyber Clive' takes another cyber-lesson and our industry DJs will keep our audience entertained with music into the late evening.
What do you hope people will get out of the event and why?
We want to give the audience useful and practical tips on how to make a difference within their own organization or themselves. Particularly when it comes to inclusion and mental health, and we really want to help make a difference and so we encourage our panelists to focus on the outcomes rather than just discussing problems.
For example, somebody approached us after the last event and told us about how low they were feeling at the time and how much Cyber House Party picked them and made them feel as though there was a community outside of the four walls they were locked inside.
Also, unfortunately, we recently lost a key member of our organizing team to a heart problem and we knew how much being part of the event meant to him. It is for reasons like this that we want to carry on and make sure that the audience get some benefit out of what we are doing, as well as the worthy charities we are supporting.
What are your plans for the future of Cyber House Party?
We want to find a way of making it less stressful to run for a start! However, as long as people continue to enjoy the events and we can find enough spare time to organize them, we will continue to put them on. Perhaps one day, we will have the opportunity to put on a Live Cyber House Party!