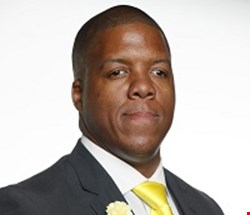 The Black Lives Matter movement has impacted society and businesses around the world, and the cybersecurity industry is not exempt from those seeking to ensure equality and representation.
All too often, it may seem there are too few people of color (PoC) in our industry, as we seek to ensure better representation for minorities and diversity. So, what is the way forward? One organization seeking to find it is the International Consortium of Minority Cybersecurity Professionals (ICMCP). Co-founder and current president Larry Whiteside Jr acknowledges the efforts made to promote more women into senior and prominent cybersecurity roles, and the same needs to be done for PoC.
Speaking to Infosecurity, Whiteside said it is important to build a strategy to support the mission of the ICMCP, to enable people's careers whether they are transitioning from another job, from high school or college, as "we happen to be in a field where if you show aptitude and critical thinking and have passion, then you can potentially get into the career field – and we help in any way we can."
The ICMCP was initially founded six years ago, after the founders realized they were speaking around the world and "there were not enough people who looked like us, so something had to change." The organization was created to provide a national conference to promote women and minority speakers, and a scholarship program. "It changed a lot of people's lives as it gave an ability through seeing people and through funding of education and training, giving people the ability to level themselves up."
"Whilst people talk about the diversity problem, there is not a lot of action being taken"
However, Whiteside said it became clear that whilst the industry was talking about the diversity problem, but there was not a lot of action being taken, and each person needs to take a level of accountability. He added that the Black Lives Matter movement is backed by people around the world and people need to realize that merely talking about the problem is not solving it, people to do something to drive the change.
Now, he feels that social events are helping to drive that change, and helping women and minorities achieve their goals professionally in the field of cybersecurity is the mission of the ICMCP.
Does he feel that people are now being more proactive and positive in making a change for representation? Whiteside said in the last two months the number of new members has massively increased, whilst it has quadrupled the number of mentors it has had from the beginning of March and seen companies reach out to the ICMCP to engage and look to sponsor "and work out how to be better and get more diverse talent in."
A common issue in the industry has been with the pipeline of talent, and representation among that. Whiteside said he hears regularly that more diverse candidates are not even applying for roles, and on the other side, hiring companies do not know where to post a job to get women and PoC to apply. "They say they want to meet certain targets and goals as relates to diversity in their cybersecurity teams and put out a job post, but still only get white males apply, then they do not have a choice as they have a need to fill the role," he said.
Also, unless companies partner with a historically black college or university which has a cyber-program, they don't have the ability to find candidates they want. "So part of my goal is for the ICMCP to be the entity that they go to to find minority and female candidates," he said.
"Part of my goal is for the ICMCP to be the entity that they go to to find minority and female candidates"
According to recent research by the British Computer Society, IT professionals who identify as BAME (black, Asian and middle eastern) are less likely to be in positions of responsibility than those of white ethnicity, with only 9% of BAME IT specialists being directors and with 32% of BAME workers describing themselves as a manager or supervisor, compared with 43% of white workers. The overall percentage of BAME workers in IT is relatively high, according to the BCS' 2020 Diversity Report, there were 268,000 IT specialists in the UK from BAME groups, representing 18% of all IT specialists in the UK. The report also found no evidence of a pay gap between ethnic groups as a whole.
Whiteside said the first stage is to get more minorities into the field, and the next stage is to get more funding for PoC to fund the building of products they are looking to do in the tech space. Whiteside added that the ICMCP is working with academia to make families aware of the career options, which he said was the only way to start "building a true pipeline" of talent.
Image courtesy of #WOCinTech