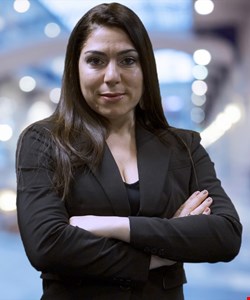 Limor Kessem is one of the top cyber-intelligence experts at IBM Security. A seasoned security advocate, public speaker and a prolific author of cybersecurity thought leadership, she helps security professionals understand and manage business risk.
At the intersection of multiple research teams at IBM and with her fingers on the pulse of modern cyber-threats, Kessem covers the full spectrum of information security trends affecting consumers, corporations and the industry as a whole.
In celebration of International Women's Day 2020, Infosecurity spoke with Kessem to learn more about her route into the sector, her career achievements and what she deems to be the key challenges continuing to impact the industry.
How did you get into information security?
I came into the information security industry by a strike of luck that met with skills I already had, and a very big passion I discovered when I started learning more about the field. My first role was in a very large counter-cybercrime research lab and I was fortunate to be surrounded by other passionate people who were generous with their knowledge and time. Since [then], I don't think there has been a day in which I did not learn something new and that is what keeps me intrigued over time.
What's been your proudest career achievement?
Career achievements, I believe, are almost always a concerted effort of the person and those around them. I would say that the proudest moments in my career have been conquering fears, self-doubt and the infamous imposter syndrome to excel in what I do. Prouder yet are the times I got to help others do the same.
What's the greatest challenge currently facing the information security industry?
I believe that, at this point in time, the industry is facing a dire need to shift focus areas and to welcome innovation or it is doomed to continue suffering from attacks that cyber-criminals are well-versed in. Specifically speaking, we have to see a much more deliberate shift toward incident response, adopting automation across the security operation, and putting budgets and emphasis on cloud security and open security platforms that can make our lives easier while boosting security across the board.