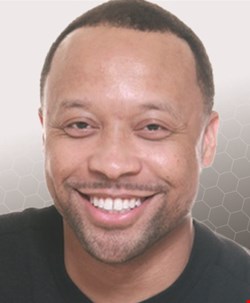 Paul Judge is unfalteringly cool. So cool in fact, that when he rocks up late to our interview, with a grin and little in the way of apology, you might be forgiven for mistaking his laissez-faire attitude as arrogance. You would be wrong. My time with Judge exposes him as a friendly, generous man. One that will leave quite an impression on anyone he meets, myself included.
I'll let you in on a few secrets about Judge. He believes sleep is over-rated, he considers work his hobby, and his business and investment interests stray way beyond information security.
Before I expand on these truths, it's worth setting the scene. Judge and I meet at Black Hat, Las Vegas, in the Absolut Vodka suite at Caesar's Palace – a room hired to host a party during the conference. We conduct our interview on a white couch overlooking Caesar's swimming pools, with each room in the suite themed as a different vodka flavor. Sharing the space with us is a DJ who has flown in from the Bahamas to work a party hosted by Judge (unfortunately, I couldn't make it due to flying home), a lovely PR woman, several girls dressed in showgirl costumes using the suite as a dressing room before returning to the Black Hat exhibition hall, and a few of Judge's colleagues 'chilling out'.
An unconventional setting for an interview, certainly, but one that seems fitting. The night before our interview, Judge had slept for one hour – a fact that I found astonishing, and he felt insignificant. "To be honest, I consider five hours a really solid, indulgent night's sleep, right?", he says to me. "There's 168 hours in a week, and I'll sleep for no more than 35 of them. That leaves me 133 hours to do something. If I work for 90 of those, that still leaves me 43 hours to do fun stuff."
'Fun stuff' to Judge, it turns out, is more work. "I don't have kids, don't watch TV, don't garden, don't cook. Do I want to go kayaking? No. I want to work on this business plan or review an NDA or work on a customer proposal." If you add these 43 hours of 'fun work' to the 90 hours of work that Judge does on a weekly basis, it equals a workaholic. "I know I work a lot", he admits, "but I just do what I want to do. It just so happens that its building companies." I'm heartened by the presence of the Bahamian DJ and the impending party – a sign that Judge does know how to let his hair down too.
More Geek than Chic
Judge "played around with computers" from as early on as elementary and middle school. His mother, a teacher, taught typing, and he would play the typing skills games she used. This evolved into an interest in programming, and later in high school, programming competitions.
When Judge went to college in 1998, right around the time that e-commerce was taking off, he became very interested and absorbed in the concept of protecting the movement of money across the wires. "I learned everything I could about security, going to grad school to dig deeper into that area", he recalls.
In fact, when Georgia Tech launched their information security center, the timing could not have been any more crucial. Judge was in the midst of a move to the West Coast. His bags were packed, his farewell party had come and gone, his acceptance to USC set in stone. "I started to have second thoughts – I wasn't sure I was ready to move to the other side of the country", he confesses. Always an over-achiever, Judge had finished college early in three years, so he was leaving behind many friends.
"So I unpacked my bags and went to Georgia Tech", where he was joined by two other students with an interest in information security and a brochure. "There was no professor, no director of the center." Of course, today, Georgia Tech has around 150 people involved in the GTISC. It was this point in his life that Judge considers a "social low-point. I was at college, I stopped hanging out with my friends, and I was also working full-time at IBM as a web developer."
It was after grad school that Judge met Jay Chaudhry, who was about to launch CipherTrust. Judge joined the company as employee number nine and laughs as he recalls his initiation into the company. "I had no professional information security work experience at the time. Still, I walked in and demanded an impressive title and a salary", he smiles. "[Chaundry] wrote something on a sheet of a paper – it was a third of what I asked for. He said 'This is it – take it or leave it?'. I took it. My title was so low they had to make up a new title for me: Junior Core Developer."
All the while Judge was working as junior core developer at CipherTrust, he was also studying at grad school – ensuring that neither party knew he was otherwise engaged. "I had two separate full-time lives. I'd work in the day and research at night and on weekends. I didn't have a lot of fun then, but I've made up for it since."
Resurrection
Judge worked his way up to CTO and watched as employee after employee left the company when it became apparent that "we were building a product that no-one wanted to buy". The company, Judge explains, "died and came back to life". When the company was acquired by Secure Computing, Chaundry and Judge stayed through the acquisition.
The tenure was short-lived, as Judge decided it was time to get "back to the whiteboard". At the age of 29, he quit his position with nothing else in the pipeline. "It was going to be my first time taking more than a week as a holiday", Judge remembers. "Seriously, I didn't know what a vacation was."
It took Judge less than 24 hours to get restless, and "early the next morning" he was in his home office, trawling the internet for what to do next.
Within a month, Judge had reunited with a past colleague from CipherTrust and pledged to fill the web security gap in the market. "We got the band back together again, if you like, and started work on Purewire within a month." Eighteen months later, Purewire had grown to 40 employees and had been acquired [by Barracuda Networks]. "It was a pretty hectic year-and-a-half", Judge says in a relaxed understatement.
When asked how the company became so successful so quickly, Judge replies "We cheated" with a shrug. "The market existed, the problem existed, related products existed. We had just spent the last six years learning lessons, so we applied them directly." Their main challenge, Judge recalls, was hitting the market at the right time. "We knew that we had to run fast. We knew that there would be acquisitions in the space, and we didn't have time to waste."
After the acquisition, Judge took the role of chief research officer at Barracuda and "built Barracuda Labs from nothing". Not content with the amount on his plate though, he began work on a third company called Pindrop Security a year after the acquisition. "I have a habit of always doing two things at once", he says. "It's the right balance for my attention span."
Overachiever
Judge hasn't always been an overachiever though, and admits that in high school, he was a lazy student. "I didn't do homework, I didn't study, I just kind of flew off whatever natural abilities were there", which presumably was ample.
It was a summer program NASA scholarship where Judge's attitude changed. "It was intense; tests all the time, so many subjects. I'd see guys cramming, and I couldn't comprehend it, I'd never studied before." The bug for hard work must have been contagious, because ever since, Judge has kept up the fast pace and learned to overachieve.
The idea for Pindrop Security came from a group of professors at Georgia Tech. On the back of a research paper on phone call fraud, a bank approached them to buy an associated product. "There was no product, no company. The professors asked me to meet them. I said I'd advise them because I liked them, but that led to me offering up investment money [Judge wrote the first cheque at Pindrop], which led to me agreeing to do it with them, in an operational role." As executive chairman, Judge considers himself "pretty involved" and is passionate about the product, which he declares "a must-have for banks. There is a law enforcement need for it."
A lot of balls in the air? Yes, but it doesn't end there. "I'm also an advisor of Social Fortress, I have my own personal angel investment firm [Judge has invested in twenty companies], I've built an information security incubator in Atlanta in collaboration with Georgia Tech called Flashpoint, I've got investments outside of information security too…." The limited amount of page space is prohibiting me to write up Judge's ongoing project list in its entirety, but you get the idea.
It surprises me to learn that Judge's investments, far from the confines of the information security industry, include fashion businesses and an energy shot called Limitless. I laugh at the latter revelation, suddenly understanding how a man who survives on such little sleep and works so many hours is still standing, and is doing so with style. "Sometimes I go out on a limb and do some weird investments", he says.
While we're talking, his PR agent gets up and reappears with a box of Limitless shots. Judge offers me one and drinks one himself. "It helps you think. Instead of just keeping you at the party, it helps you stay up and work smarter", he says.
When Judge explains to me that understanding a product is the key to him investing, it all makes sense. Of course a man who sleeps 35 hours a week and works for over a hundred is going to invest in an energy drink – he understands the need for it, he is the need for it.
"I used to invest in stuff purely based on the return, the spreadsheet, but now I realize that life's too short for that. You should invest in stuff that you really believe in and can get excited about", he says, at peace with this evolution in mindset. It's a relief to me too, knowing that at least Judge's excessive working hours are spent doing something he's passionate about.
A Light That Never Goes Out
Throughout his career, Judge has been surrounded by "strong business people", which he attributes to his grasp of business sense and intuition. It's not often you find somebody who is equally good with technology and business practice, I remind Judge, who nods in agreement "As an undergraduate, I'd minored in math. Years later, I walked into the management school, and said, 'I want to learn the science of doing computer science in business. So I minored in management."
Judge admits to going through periods of reading "every standard business best-seller that came out" and believes that business is "an art" that needs to be studied to flourish. He confesses to making his fair share of mistakes, but all of which "I responded well enough to and recovered and learned from. I have no regrets". Because he was always fortunate enough to have scholarships and fellowships, and thus didn't pay for school, he considers any financial mistakes to be the universe's way of settling the score.
As the interview draws to an end, I ask Judge whether he has any intention of slowing down. He looks at me with a raised eyebrow and a slow smile, gradually lighting up his whole face. "As long as I'm able to wake up in the morning and work, I'll be working on the next thing." I'll take that as a no then.
"I get offers from recruiters all the time for very impressive roles at very impressive companies, which I'm humbled to receive. I just can't imagine being part of such a big organization at this point", he tells me honestly, and I can see why.
"I'm just trying to get better; mastering the art of recruiting teams, picking the right spaces at the right time, listening to customers, building the right product. I think I can do better and I want to get better", he tells me earnestly.
One obviously as-yet unfulfilled ambition he has is to improve his work/life balance, although I'm not sure how committed to that he can possibly be, having heard his list of current projects. "I'm now more selective in what [projects and investments] I take on, so that's kind of slowing down, right?" he asks me with a grin. I haven't the heart to tell him that his version of slowing down is working harder than the average person has ever worked in their life.
I thank Judge for his time and leave the interview feeling, suddenly, very lazy. Taking out that shot of Limitless that he gave me, I drink it thinking: Paul Judge, I salute you.