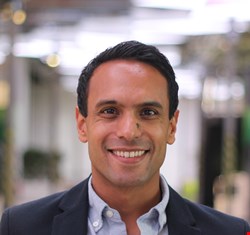 The London Office for Rapid Cybersecurity Advancement (LORCA), a center set up in London's Queen Elizabeth Olympic Park to help launch cybersecurity startup firms in the UK, has had a busy and highly productive start to life since it started two and a half years ago in June 2018.
Five cohorts of scaleup companies have already taken advantage of the government-backed accelerator program in that time, benefitting from business mentoring, connections to investors, support in accessing new markets and growing an international presence, as well as access to commercial and engineering expertise from LORCA's delivery partners. It was reported in September that the companies that have progressed through the innovator programs have collectively raised in excess of £150m in investment, already 280% above the original target of £40m in three years.
To reflect on LORCA's impressive accomplishments so far, the impact of COVID-19 and future trends in this area, Infosecurity recently spoke to Saj Huq, director of LORCA. Huq firstly expressed his delight at LORCA's overall performance since its inception, revealing that a number of deals have also been announced in the current quarter, showing that "despite the economic turmoil we're in, good quality businesses who have got solutions to problems that exist are still attracting investment." One caveat to this is that investment is being skewed towards later-stage startups rather than those very early stage businesses LORCA specializes in, a trend that was observed prior to the current COVID-19 crisis.
The pandemic has undoubtedly exacerbated this though, with the virtual nature of investment meetings this year making it harder to gauge the risk in backing early-stage companies.
Operating During Lockdown
Naturally, the fifth LORCA program this year has had a different feel to previous ones due to the lockdown, such as far less face-to-face interactions; however, according to Huq, this has brought about benefits as well as drawbacks. He explained that undertaking the selection process virtually has helped them reach a wider pool of businesses due to the removal of geographic barriers and "we ended up having more applications than we've ever had before."
For the same reason, this year LORCA has been able to connect with a greater range of investors, and has also observed a "lot more engagement from the startups into the wider curriculum we offer." Huq noted: "I think that's partly because startups are looking for support at this time, as well as it being easier to engage via Zoom."
A downside to the lack of face-to-face meetings has been that it is harder for investors to "get a feel" for early stage companies, which is so vital for these startups as there are generally limited data points regarding their products and services. However, the overall story during the lockdown has been one of success, with LORCA cohort members accounting for 69% of all UK cyber-investment since the start of the lockdown in the UK.
Challenges for Startups
It has been well-documented that the shift to home working has substantially changed the security needs of organizations, and grown the demand for services that cater to this new environment. Huq highlighted that the changing needs of buyers has grown demand for LORCA cohort startups specializing in areas like zero-trust, cloud security capabilities and privacy enhancing technology.
"We have seen some of our businesses adapt their products to change their value proposition"
"We have seen some of our businesses adapt their products to change their value proposition because they've got a much closer understanding of needs in this environment," he outlined. "They've rearticulated how they solve particular issues, and are naturally making that relevant to the COVID-19 situation."
Despite the successes of startups that have participated on the LORCA program, Huq emphasized that the cybersecurity vendor market is an increasingly challenging one to enter. The huge growth of this sector over recent years has led to more competitiveness, and as a result he sees "fatigue" setting in on the side of buyers, which is in danger of leading to a sense of apathy to innovation. He said: "That is probably the fundamental challenge we have to navigate and the way we've done that is by building trust in the process by which we engage with solutions and the technical process in assessing solutions to ensure they've got efficacy – that they work, are relevant and therefore stand out."
To help these early stage firms stand out in a crowded market place, a major component of the LORCA program is helping entrepreneurs engage in commercial discussions, something that may not necessarily come naturally to them. This is especially important in a highly technical area such as cybersecurity, which can be daunting and difficult to understand for buyers and investors. Huq noted: "To be an entrepreneur, you need to develop a plethora of skills, and the entrepreneurial process is something we're trying to put them through as well as the technical innovation process because trying to make that distinction in an area like cybersecurity is sometimes challenging."
Future Development Plans
There are plans afoot to build on LORCA's successes and develop its operations going forward. In particular, Huq wants it to take a more holistic view of the cybersecurity sector, helping meet the emerging challenges organizations are facing. "Startups will always be at the core of what we do – we will always be at the heart of development of businesses in this area," he stated, "but what we'd love to do is take a much more strategic focus to solving the grand challenges of cybersecurity, which any one organization can't do alone."
One aim is to contribute to the "diversification of the UK's 5G technology stack and embedding security by design into 5G." Another is helping tackle rising disinformation online, which Huq sees as increasingly becoming a cybersecurity issue as it is a potential mechanism to deploy cyber-attacks, for example as a lure for people to click on malicious links. This is not to mention the damage it can cause to organizations and nation states in areas such as reputation and stability.
LORCA has proved a highly successful initiative for the development of UK cybersecurity startups during its short life, and this has been particularly evident this year amid the COVID-19 pandemic. It remains a challenging environment for early-stage companies in the field, however, and it is vital that future generations of startups are harnessed to provide innovative solutions to the biggest cyber-challenges of the day as we move into an increasingly digitalized world.