The annual UK's Most Innovative Cyber SME competition, held by the UK Department for Science, Information and Technology (DSIT) at this year's Infosecurity Europe (20-22 June 2023), has crowned Angoka as the winner.
Belfast-based Angoka offers communication security solutions for industrial, smart city and smart mobility use cases.
Andrew Elliot, DSIT's deputy director for cybersecurity, innovation & skills, said during Infosecurity Europe that the pitch from one of the start-up's co-founders Paul Ellis impressed the jury: "Paul managed not only to present his security product for autonomous vehicles, but he did so while walking around the high street in Oxford, thus immersing us in what he was trying to deliver."
Ellis was not so loquacious when he was invited to receive his prize in front of an Infosecurity Europe audience. Taken aback, he said he was "humbled and very proud to be part of the security industry."
Speaking to Infosecurity, Shadi Razak, Angoka's CTO, was ecstatic. "This award means a lot. So much innovation is happening in the UK, mainly driven by SMEs, and such a distinction proves that the government recognizes this. It also shows that the government continues to support Angoka's work by giving us the opportunity to exhibit at Infosecurity Europe and pitch on the Innovation showcase," he said.
Angoka's Solution Secures M2M Communications
Angoka has enjoyed a close relationship with the British public sector since its beginnings. "Following a call from the UK government in 2016 on securing smart mobility, the four co-founders [Yuri Andersson, Daniela Menzky, Steve Berry and Shadi Razak] came together to create a start-up. We applied for a grant in the same year and received around £250,000 to work on our first patent," Razak recalled.
The start-up remained in stealth mode for three years and was officially founded in 2019.
"Our mission is securing machine-to-machine (M2M) communications in three main areas: smart land mobility, smart air mobility and critical national infrastructure (CNI)," Razak continued.
"We started building an encryption solution with three principles in mind: first, we decided to start fresh and refused to use anything that was already implemented; second, we wanted to understand the cyber-physical needs and constraints of the systems we were securing, where safety is a top priority; and third, we chose to think five to 10 years ahead, both in terms of how the technologies and how the threats could evolve in the long term."
Angoka's solution allows drone or autonomous vehicle operators to generate multiple unique identities to prevent spoofing and offers an end-to-end encrypted communication system for these moving devices to interact with the infrastructure – an unmanned aircraft system traffic management (UTM) system or a road traffic management system, for instance.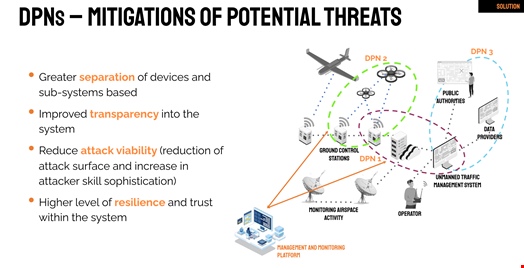 "It's like having a multi-channel virtual private network (VPN), but on a lower level within the stack – and much more secure: a VPN will always allow you to trust anyone into a given pipeline, whereas our solution forces you to authenticate yourself every time you're sending something in the pipeline," Razak explained.
Angoka Involved in Six UK-Based Smart Mobility Projects
With 30 employees across three locations – Belfast, London and The Hague, in the Netherlands – Angoka has received between £3m and £4m of grants and raised £2.7m of private equity funding.
It has participated in several start-up programs, including the National Cyber Security Centre's (NCSC) Cyber Accelerator, Seraphim Space Camp, Yes!Delft, TechNation Cyber 2.0 and Zenzic's and Plug and Play's Connected and Autonomous Mobility Scale-Up Programme.
More recently, Angoka has been involved in many UK government-funded initiatives, including three on drone control and three on autonomous driving.
One of them, ServCity, has been led by Nissan and Hitachi in Sunderland since 2020. Its objective is to create a control network for teleoperating trucks from a factory's loading bay, far from the buildings, to the landing bay, inside the building.
Another, Project Skyway, kicked off in 2022. It aims to build Europe's largest drone corridor – 170 miles from the north to the south of England. It involves eight partners, including BT and Altitude Angel, a UTM provider.
Razak explained: "The idea is that multiple commercial drones can fly through this superhighway simultaneously for medical deliveries, search and rescue missions and protecting CNI. While I don't see drones being used for your day-to-day logistics, like ordering something from Amazon to your home, I think they are a great opportunity for these critical use cases."
Read more: Drones Contain Over 156 Different Cyber Threats, Angoka Research Finds
If the pilot phase is successful, BT and Angoka will market, in a joint venture, a secured control system for drone operators to embed in commercial, off-the-shelf drones.
Expanding to Asian Markets
Angoka is also working with the UK Civil Aviation Authority (CAA) on several projects and has an advisory role in delivering the refreshed Airspace Modernisation Strategy (2023-2040), published in January 2023.
The start-up plans to launch a comprehensive report on the drone security threat landscape in September and organize the second edition of Advanced Air Mobility: Future Challenges & Opportunities, Northern Ireland's first drone summit.
"We're also looking to hire more people and get to 50 employees by the end of the year," Razak said.
The final priority for the start-up's leadership team is expansion: "Angoka means 'encryption' in Japanese – and we're now focused on expanding our activities in Asia, starting with Singapore and Japan."
Their collaboration with Nissan and Hitachi could help achieve this.