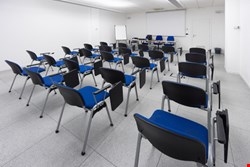 A qualifying CyberQuests online competition will be held in April 2014, with winners earning a spot at a USCC Summer Camp, which are deployed across the country. CCS Summer Camps feature one week of specialized cybersecurity training that includes workshops, a job fair and a culminating "Capture the Flag" competition.
The workshops are led by college faculty, top SANS Institute instructors and cybersecurity experts from the community. The workshops and presentations focus on a variety of topics ranging from intrusion detection, penetration testing and forensics.
Participants can also participate in a job fair that provides them the opportunity to meet with CCS sponsors and discuss potential employment. The week-long program ends with an awards ceremony attended by notables in the cybersecurity industry and government.
"The challenge of cyber we face is sophisticated, pervasive and universal – and programs such as the US Cyber Challenge implemented by the US are a crucial step towards ensuring our increasingly digital future rests on secure foundations," said Peter Armstrong, director of cybersecurity at Thales UK and head of the Thales UK cyber graduate training program.
He added, "However, the success of these schemes is not merely down to scale – it is down to governments and industries around the world putting excellence at the heart of training and investing in facilities that allow students to experience real scenarios in real environments. The serious nature of the cyber threat means that these 'custodians of tomorrow' will need to demonstrate technical excellence, resilience, intellectual agility and moral courage of the highest order. In short, only the best will be able to hack it."

The initiative to bolster the cybersecurity workforce follows a program implemented last year to work with governors to place veterans and others into infosecurity training and later jobs.
John Colley, managing director, (ISC)² EMEA, told Infosecurity that the industry simply isn't attracting enough staff of sufficient quality. "There is an apparent skills shortage in terms of the number of people that are required to actually provide advice and guidance on information security," he said. "That's having a negative impact in a number of areas.
It's impacting on the workforce itself – 71% of respondents in the latest (ISC)² Workforce Study said they felt under strain because they don't have enough staff in place. Then, Colley added, that shortage is affecting the company, having a direct effect on the number of breaches and the company's ability to respond to incidents. And according to 47% of respondents, that inability then has a direct effect on the organization's customers.