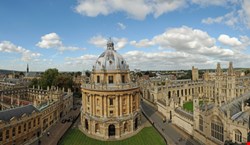 In October 2013, the University of Oxford will open the doors on a new Centre for Doctoral Training in Cyber Security. The center will train around sixteen advanced graduate students each year, and equip them for advanced cross-disciplinary research. It is funded by the UK's Engineering and Physical Sciences Research Council through a £3.65m grant.
In the Centre, each student will produce a doctoral thesis in the normal way – but before they start on their research, they will spend a year devoted to intensive study: in systems design and operations; in high-integrity engineering, in human factors; and also in criminology, digital forensics, international relations, policy and governance, ethics, systems modeling, and so on.
To ensure these academic topics are not dissociated from everyday practice and business needs, the students will also undertake field trips to leading businesses, and the Centre will welcome key practitioners from across the field of cybersecurity to describe their particular everyday concerns in 'deep dive days'. Many of the research projects the students end up working on will be motivated by these discussions, and supported by industry partners, so that they are both academically rigorous and relevant to the still-emerging challenges of cybersecurity.
Students from the center will be drawn from computer science and engineering backgrounds – but also those who have studied law, public policy, and a range of other social sciences. "Students have applied from all over the world to join the center", said the center's director, Andrew Martin. "They will bring a fascinating mix of skills and experience, and will learn from each other as well as from the course lecturers. I expect to learn a lot from them."
The center will draw heavily on Oxford's existing expertise within its Cyber Security Centre. The university is one of GCHQ's eleven recognized 'Centres of Excellence in Cyber Security Research', in recognition of a large portfolio of research activity.
Its successful MSc in Software and Systems Security offers education on a part-time basis to practitioners in information security and software development. The course is designed to fit around their professional work, and therefore includes students holding down professional jobs, not just in the Thames valley, but in locations as diverse as Sydney and Silicon Valley. They visit Oxford for a week at a time, and build up credit for the degree over several years.
Some notes on the program:
Applications to the MSc in Software and Systems Security are welcome all year round from anyone working at a professional level in a relevant industry.
The Centre for Doctoral Training has an annual intake. For entry in October 2014, students are advised to apply by early January. Candidates need to demonstrate a strong educational background, and evidence of sustained interest in cybersecurity.
The Cyber Security Centre – and particularly the Centre for Doctoral Training – welcomes industrial engagement, for student projects and internships, as well as for larger-scale collaborations.