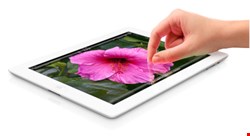 Three different groups have developed methods to jailbreak the new iPad running the iOS 5.1 from different angles, according to the iPhone Dev-Team blog.
The first jailbreak uses a method similar to a jailbreak of iPad 2 developed four months ago by hacker MuscleNerd that still works in iOS 5.1. With this method, hackers can "at least get our foot in the door to get the required kernel dumps on the iPad 3", the blog explained.
The second jailbreak, by Stefan Esser (@i0n1c), involves an untethered jailbreak on the new iPad. He shot a YouTube video that shows how he did it.
The third jailbreak method was developed by Grant Paul (@chpwn) and Paul Griffin (@phoenixdev). They posted screenshots of their work on Twitter.
"That's three different angles, and we're not even including the continuous work @pod2g makes towards a new jailbreak! As always, keep in mind this is very preliminary progress, and it's impossible to predict how or when these things turn out. The only thing you need to remember is the golden rule: Don't update your new iPad 3 past whatever iOS it comes shipped with", the blog advised.