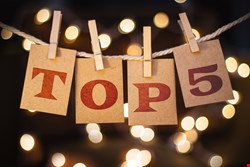 Infosecurity Europe is the largest gathering of cybersecurity professionals in Europe with over 300 exhibitors, over 13,000 visitors and more than 200 conference speakers. Attending the event is a must for those looking to stay on top of the latest cybersecurity trends and technologies.
While you are planning for this year's event take a look at Infosecurity Magazine's top activities to get involved in.
Register for Infosecurity Europe here | 20–22 June 2023
1. Be Inspired by the Amazing Keynote Speakers
Michael Johnson, Matthew Syed and Keren Elazari are among those taking to Infosecurity Europe's Keynote Stage this year. Hear from four-time Olympic gold medalist Michael Johnson about pursuing excellence and overcoming obstacles to develop resilience in the face of adversity. Matthew Syed shares his rebel ideas in order to inspire organizations to adopt a growth mindset and improve their cybersecurity posture. Finally, friendly hacker Keren Elazari explores the intersection of cyber conflict and politics. She will highlight how we can learn from hackers to prepare for the future.
2. Join a Live Hacking Competition
Geek Street offers you the opportunity to get involved in a live hacking competition brought to you by Hack The Box. The hands-on challenges are designed for infosec beginners, cybersecurity enthusiasts, and cybersecurity professionals who want to increase their skill sets. Anyone can join the Hack The Box squad and test their security skills. The only requirement is to bring your own laptop so you can take part. Why not give it a go?
3. Discover New Tech Hitting the Market
The Department of Science, Information and Technology (DSIT) will announce its most innovative cyber SME 2023 at Infosecurity Europe as part of its focus on championing innovation. the UK's Most Innovative Cyber SME winner will be announced at 4.45pm on Wednesday 21 June at the Innovation Showcase. Throughout the event the Innovation Showcase is the place to get to grips with the latest technology innovations in cybersecurity as exhibitors showcase and demonstrate the exciting new products and services they have to offer.
4. Network with Women in Cybersecurity
Infosecurity Magazine will be hosting the annual Women in Cybersecurity event from 11.30am on Wednesday 21 June in the South Gallery at the Excel. You'll hear an inspirational talk from our keynote speaker, Danni Brooke, a former undercover police officer and part of Chanel 4's hit show Hunted. Danni will discuss how she overcame challenges in the face of difficult circumstances, balancing the demands of work and her personal life. She will then be joined by an A star line-up of cybersecurity professionals who will discuss their career journeys, how to excel in the world of cyber and how you can uncover your signature skill.
Register here for the Women in Cybersecurity event.
5. Hear From This Year's Hall of Fame Inductee
This year's Hall of Fame inductee is Becky Pinkard, CISO at Barclays. She will be giving the annual Hall of Fame lecture on the keynote stage on Wednesday 21 June at 2.25pm. Becky is a security transformation expert and is a renowned practitioner and commentator on the information security sector who has been working in the industry since 1996. She is an active advocate for promoting diversity and inclusion in business and was a co-founder of the 'We Empower Diverse Startups' (WEDS) group. As a leader in the industry her lecture will be a must-attend for everyone at Infosecurity Europe.
This is by no means an exhaustive list of what's on at Infosecurity Europe. Here's some of the other exciting activities to add to your plan for the week.
Listen to the Strategy Talks. With each session reviewed, graded and selected by the trusted members of our advisory council these talks offer inspiring presentations showcasing the latest information and cybersecurity insight, knowledge and expertise.
Join ClubCISO for the Champagne CISO event on Wednesday 21 June at 3pm in the leader's lounge. This is a real opportunity for cybersecurity leaders to compare themselves to the rest of your CISO peer group and network in an entertaining way.
Visit the startup showcase to hear bite-size presentations where you can discover the newest tools being developed to protect against the latest threats in information security.
Make sure you head to the event website to register and plan your visit. We look forward to seeing you there.