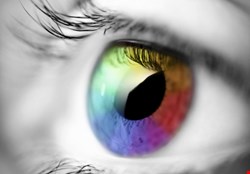 This investment, said the firm, is part of the airport's £1 billion development program to modernize its facilities and improve the passenger experience.
The technology, added the company, integrates the HRS software with AOptix Technologies' Insight VM iris recognition hardware, allowing passengers to pass through the security area quickly as the technology captures their unique iris patterns to accurately identify them in conjunction with another form of identification.
There is no need, claims HRS, for a stop-and-start security process, making it much quicker and non-intrusive.
A second biometric system – MFlow Journey – that incorporates passive facial recognition has also been deployed by UK border officials, which HRS says is another world first.
As with MFlow Track, MFlow Journey has undergone trials at Gatwick, and in this instance, measures and manages the flow of passengers through the security area. The MFlow Journey system drives the display boards showing the actual queue time, enabling passengers to pick and choose the lane they want to use.
Geoff Williams, head of security at Gatwick Airport, said that the security process is a key part of the passenger journey and HRS has worked closely with his team in providing innovative solutions to deliver a better passenger experience.
"Already passengers are spending on average less than five minutes in security. With our new spacious preparation area and 19 security lanes, some of which are designed to assist families with young children and premium travelers, the new technology will help increase the efficiency of the security operation and provide a better service", he said.
Neil Norman, HRS' chief executive, meanwhile said that, like Gatwick Airport, he and his staff hate queues and are therefore proud to be the company helping Gatwick to keep passengers moving.
"Throughout our extensive trials, we worked meticulously with Gatwick's teams to ensure we were consulting with the people who are operating the technology as much as the passengers we are ultimately serving. And we are delighted with the final results", he said.