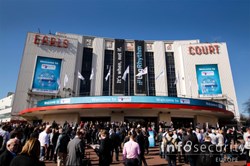 At stand H70, Qualys will run product demonstrations, present on industry topics and give visitors the chance to engage with key spokespeople – such as Ivan Ristic, director of engineering at Qualys and author of The SSL Cookbook, who will be available for a book signing after his presentation at 3 pm on Wednesday, April 30.
Other key spokespeople, such as Wolfgang Kandek, Qualys' CTO, will also be at the stand on Thursday, May 1, speaking about the Top Four Security Controls, their impact on overall security and how to effectively implement these best practices. In addition, Qualys customers, such as Pearson, NRD CS and the University of Westminster, will be presenting each day at 11:15 am and again at 2 pm, providing visitors with the opportunity to hear first-hand the impact Qualys has had on security in real-world scenarios.
Across the three days, Qualys will showcase its QualysGuard Cloud Platform and integrated suite of solutions that help organizations simplify security operations, lower the cost of compliance, and get critical security intelligence on demand. These solutions include:
Visitors to the Qualys stand have a chance to win some high-tech prizes. The Qualys team also invites attendees to join them at the bar in their stand for a beverage – including smoothies, coffee, tea and, of course, beer – served between 3 pm and 5 pm.