After news that a bug in its software resulted in a data breach, Singapore Airlines (SIA) has today issued a warning on Facebook, alerting customers to be wary of scams and phishing sites promising free airline tickets.
In what the company called a fraudulent online survey being dispersed via WhatsApp, scammers ask users if they have ever traveled with the airline and make the specious claim that SIA is offering free tickets in celebration of its anniversary.
In truth the survey is a scam attempting to trick SIA customers into giving their personal and credit card information. "If a recipient answers the survey questions and click on ... 'Claim Tickets' or 'WhatsApp,' user will be redirected to a non-SIA website that is designed to trick the recipients into filling in their personal and credit card information. This fraudulent website is only accessible via mobile device browsers. They are shared and forwarded via WhatsApp," SIA wrote.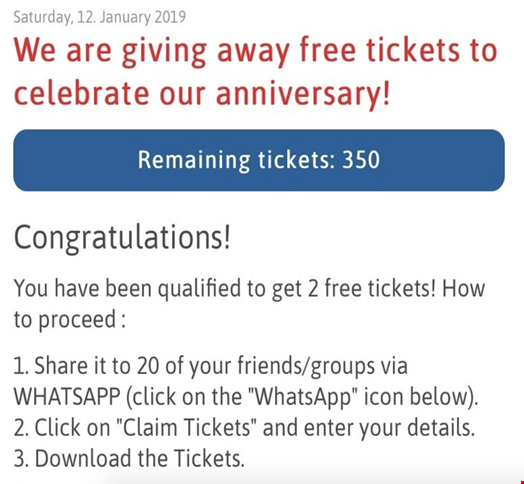 In addition, the company is using social media to reach its customers as well. "It has come to our attention that there is a website that claims to be from Singapore Airlines, offering free air tickets as prizes, before proceeding to request personal data," Singapore Airlines wrote on Facebook.

"We have reported the site to be taken down and would like to advise customers to exercise discretion when revealing personal data to unverified sources. These websites, emails and calls should be verified if in doubt. Please send us details on our social media channels or via this link http://singaporeair.com/en_UK/feedback-enquiry/.

"We would also like to advise customers to be cautious of social media posts and phishing websites that appear similar to our official website singaporeair.com. Thank you."
Cyber-criminals continue to prey on the naïveté and trust of end users. Already in 2019, Infosecurity has reported on multiple different scams, such as 60% of UK consumers leaving themselves vulnerable to New Year's resolution online scams and the return of the WhatsApp Gold scam.
Increasingly, though, users are realizing that with all online and mobile ads, nothing is ever really free. One Facebook user warned, "If it sounds/looks to good to be true, it usually is! Always delete these things after checking official websites!"