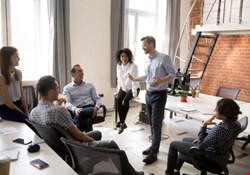 CISOs, chief technology officers (CTOs) and chief information officers (CIOs) at leading organizations are almost entirely responsible for securing data and information systems. It is a task that has grown increasingly challenging in recent years, given the rise in digital transformation, remote work and an ever-expanding cyber threat matrix.
With even small and medium-sized companies finding themselves on the receiving end of major cyber-attacks, from ransomware to phishing attacks, security is no longer an afterthought.
In this article, we cover the duties of CTOs and CIOs regarding information security and what the future holds for these increasingly critical professionals.
Developing Policies and Procedures
The core responsibility of an infosecurity leader is to draft policies, procedures and practices based on the range of threats faced by an organization while ensuring that they are complied with. This includes but is not limited to policies for password management, access control, incident response and more.
CTOs and CIOs hold the reins when it comes to cyber-defense and, as a result, should strive to build a culture of safety and security with the right use of policies and procedures.
By having solid policies and ensuring that they are complied with, middle and senior managers organization-wide will understand the security imperative and their own individual responsibilities.
Implementing Security Technology
A wide range of innovative new security technologies are available for enterprises, aimed at mitigating cyber threats. However, effectively implementing these technologies is a fairly sophisticated endeavor requiring extensive subject-matter expertise.
Leading CIOs and CTOs are expected to lend their experience and expertise in this regard and aid in selecting the right tools and vendors that best complement the internal tools and systems of an organization.
This is a never-ending process, especially as threats continue to evolve and new technologies are adopted, often coming with a fresh set of vulnerabilities. As a result, it is essential for infosec professionals to constantly stay on their toes.
Security Governance
With the tech systems and processes in place, the next big responsibility of a senior tech leader in an organization is security governance. This involves ensuring that processes are being complied with and that any vulnerabilities that have come to light are immediately dealt with.
This is achieved by conducting regular security audits, going over incident reports, and undertaking planned penetration tests to identify vulnerabilities and test security measures.
As a matter of course, every system, tool and technology must undergo testing for vulnerabilities before it is deployed in an organization. Off late, conducting a penetration test for an AWS environment remains widespread, with plenty of professionals and service providers offering this service.
Vendor Management
Large organizations work with numerous external vendors during the usual course of business, with many of these companies regularly accessing internal systems, files, and data. This brings vendor management, at least the security aspects of it, within the purview of the CTO or CIO.
When signing a contract with any new vendor, it is now common to include clauses pertaining to information security and data protection standards, along with various tests and audits to examine the same. This requires the involvement of senior tech leadership or infosec professionals.
Contracts further specify guidelines for responding to breaches, disclosing them and more to ensure that the organization's data and customer information remains secure and that there are no loose links across the extended value chain.
Regulatory Standards and Compliance Requirements
CIOs, CTOs and other information security professionals are required to stay up-to-date with the various global security standards, regulations and compliance requirements. This includes privacy laws such as the GDPR in Europe, the CCPA in California, and more.
As cybersecurity risks continue to multiply, regulatory requirements worldwide will grow accordingly to safeguard customers, employees and businesses alike. The responsibility of complying with this ultimately resides with the CTO or CIO of an organization.
Each new geography comes with its own share of laws and regulations that need to be complied with. As a result, cybersecurity professionals will play an outsized role when it comes to overseas expansions and multinational operations going forward.
Final Words
The role of CIO or CTO in organizations worldwide has undergone drastic changes in recent years. Professionals in these roles no longer merely support operations but are an integral part of the C-suite, playing an important role in the decision-making.
All of this makes a career in information technology and security very exciting for young professionals.