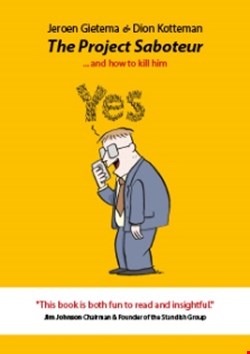 The idea that 'project saboteurs' reside within businesses is often something that many organizations like to dispute. No company relishes the thought of its own staff members posing a significant threat to its new and existing projects.
However, according to Dion Kotteman, co-author of the new book The Project Saboteur…and how to kill him, good projects intentionally going bad is a reality for every organization. Although little attention has traditionally been paid to the art of undermining and manipulating projects to benefit one person's best interest, annually millions of pounds, euros and dollars are lost as a result of project sabotage.
Interested to find out more I sat down with Kotteman, whose security background includes working in the financial industry, a stint with the Dutch government and now operating as an independent advisor, to discuss his personal insight and experience of project sabotage, his inspiration for writing the book and what message he hopes it portrays.
He explained that it was his involvement in major projects during his time with the Dutch government that really opened his mind to the risks that surround possible sabotage from inside a company.
"The inspiration [for the book] was that I was dealing with major projects, and I could see that despite the fact we were technically okay, sometimes projects did not succeed. This suggested that there must be something behind the scenes that is still influencing your project."
"There is never a guarantee that projects will succeed," he continued. "You always have to look at other factors – which is what the book is all about – that sometimes people deliberately manipulate and sabotage your project because their interest is not in line with the interest of the project. The message of the book is do not forget to do the regular things in terms of planning and resourcing, but add something to it which is to watch out for the human interest and find solutions for dealing with that. If you don't, you will probably be 'run over' by the human interest aspect."
Kotteman said an essential element of sabotage is that it has to be done deliberately and consciously.
"Someone has to have the intention to slow down the project or destroy it completely," he added. "It is not something done by chance. It is something that is done in a planned way, step-by-step in order to achieve a goal."
When asked what factors drive people to carry out intentional project sabotage, Kotteman said there are various project-related issues that can play a part including concerns over job security, ethical beliefs and financial benefits/losses.
To conclude, Kotteman explained that for companies to tackle project sabotage risks, they have to gain an understanding of the human interest threats that can arise during the project development process and implement solutions that positively counteract them.
"There's always a way to deal with personal interests; the worst thing to do is to forget the personal interest and expect people to work anyway, and I think that is what is happening quite a lot and it's where companies are going wrong."