Jack Daniel is as iconic in the cybersecurity world as Jack Daniel's is in the whiskey world. It's not just his well-known beard that turns heads though. His knowledge, his warmth and his ability to unite an industry is well-respected by cybersecurity pros and hackers around the world. He says of his job, "I tell stories, the stories of our customers, of our products, and of our industry and communities", but that only just scratches the surface of a man so infamous that he genuinely has no job title…
What sector would you love to work in?
I would like to work on healthcare software. The security issues are becoming well known, but what frustrates me is that most software in healthcare is horrible to work with, obsolete, not intuitive and sometimes impedes rather than enhances patient outcomes. Working to help organizations fix the usability of healthcare systems while making security part of the project would be very rewarding.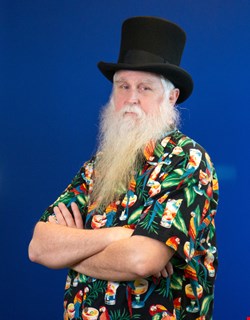 Who do you really admire in the industry?
There are so many amazing people in the industry it is hard to single people out, but I have learned so much from Spaf (Eugene Spafford) that he has to be on the list. Wendy Nather is brilliant, insightful and amazingly helpful to many people. Lesley Carhart is another brilliant infosec pro, and she goes out of her way to mentor and help people in our communities. Also, even though she is gone, my admiration for Becky Bace continues.
What are you most proud of?
There are two overlapping answers. I am very proud of what we have accomplished with Security BSides. Thousands of people have come together at over 350 events globally since a few of us got together for the first BSides in Las Vegas just over eight years ago. I am also very proud of the individuals I have been able to help personally and professionally as I've wandered along in my career.
What's your dream job?
There are several things I would like to do: blacksmithing, woodworking and bartending among others. However, what I would really love to do is comedy. I've recently started doing stand-up comedy at open mic nights and I love it!
I've recently started doing stand-up comedy at open mic nights and I love it!
Quick-fire Q&A:
What's the best thing about your job?
The ability to help build and strengthen communities in the infosec and hacker realms
What's your biggest professional regret?
I have not always kept up with the latest advances in technology
What's the most misunderstood thing about information security?
That information security is about computers or technology, it is actually about people
What one piece of advice would you give to someone starting out in the information security industry in 2017?
Share and show your work. Whatever you do, make it easy for people to see it.
What would our readers be surprised to learn about you?
I spent time as a volunteer shipwright and crew member on a wooden square-rigged ship, the Bounty replica made for the 1962 version of Mutiny on the Bounty (the one with Marlon Brando).