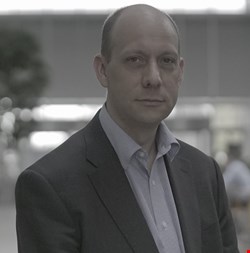 Paul Watts has worked in information security for over 16 years, and a further 10 in IT. He has held senior leadership roles in various sectors and sits on the advisory board of ClubCISO. Outside of his work, Paul provides voluntary support within the local education system and enjoys outdoor fitness (particularly cycling) and discovering new music.
What fueled your passion for information security?
I was smitten by the industry back in the 1980s courtesy of a film called WarGames and two books written by the legendary Peter Sommer under the pseudonym of Hugo Cornwall called The Hacker's Handbook and Datatheft. Back then, information security didn't have any sort of defined career path and I was only in my early teens, but the idea of information becoming as valuable as oil and the notion that our growing societal and military dependency on information technology could lead to apocalypse should that technology be turned against us absolutely intrigued me.
What was your path into information security?
Owing to said lack of career pathway into security, I largely forgot about it as I earned my BSc (HONS) degree in Computing from Loughborough and started working for a consultancy building data warehouses and business intelligence solutions for blue chip companies. After a short period working in the information management and IT service management space, my big break came whilst I was running the IT disaster recovery platforms for a large financial services outsourcer. I was asked to take on some IT security responsibilities as well and thus I had my first information security leadership role, and haven't looked back since!
What is the greatest data security challenge right now?
Trying to maintain the security posture of what has become a rather amorphous data processing ecosystem full of unstructured data of increasing value with an increasingly potent, annoyingly lucrative, terrifyingly innovative and growing ransomware and extortion 'industry' circling overhead. I liken it to trying to catch smoke in a fishing net! I don't know many security leaders who haven't had a sleepless night worrying about this, and it is becoming increasingly difficult to find a security professional who hasn't had to deal with this threat for real.
What is your proudest career achievement?
I would say it was when I had the rather audacious idea of using school children to teach the staff at Network Rail about information security. I 'borrowed' a year group from the local primary school that I was chair of governors for at the time, ably supported by that year's IT graduate apprentice cohort. In return, we also got the community safety team to bring the mobile classrooms down and taught them all about rail cybersecurity, so it was a massive win-win for everyone. It was just a really special day and a proud moment for me – the 'grown-ups' and the children still talk about it to this day.
---
Quick-fire Q&A
What's your favorite movie?
It has to be WarGames – a career-defining movie for me.
What's your guilty pleasure?
I love my music and I love my bike, so it would have to be an open-ended Spotify playlist in my ears whilst riding my bike out into the countryside with no particular itinerary, just going where the wind takes me and enjoying the freedom.
What's your personal goal for 2021?
Survival.