Deja vu Security has become a part of Accenture's cyber-defense offerings through an acquisition announced on June 17.
The Seattle-based Deja vu Security was founded in 2011 and has been providing a range of business application security solutions with a focus on integrating security into the product development lifecycle. Accenture continues to invest in next-generation cybersecurity solutions that will deliver end-to-end security for clients' business. Financial terms of the agreement were not disclosed.
No financial details of the deal have been disclosed. "Deja vu Security brings to Accenture a deep expertise in the techniques, tools and methods for securing connected devices and IoT networks," the press release said. The transaction heightens Accenture's ability to improve the "security of things."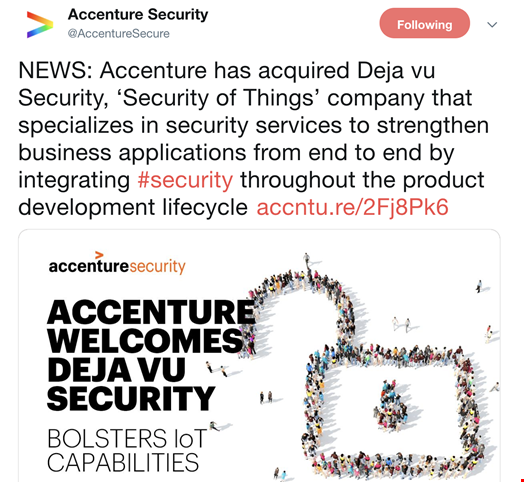 "For technology companies, third-party suppliers and consumers alike, IoT security controls often remain an afterthought which is why it's critical that security is built in from the start for any new products, processes or services," said Kelly Bissell, senior managing director of Accenture Security. "Deja vu Security's team of innovative specialists brings considerable technical cybersecurity skills, making them a strong strategic fit and [helping] our clients reduce the risk of their connected solutions. We are very excited to welcome the Deja vu Security team to Accenture."
Deja vu Security and its employees are reportedly excited about the transaction, according to the press release. "Accenture's people-focused culture and innovative mindset are core values that both companies share, and our unique capabilities complement each other perfectly. We are thrilled to be joining such a high-caliber global organization," said Adam Cecchetti, Deja vu Security's chief executive officer.