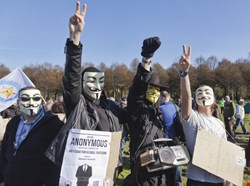 Now it has apparently reversed that view. In a memo distributed Thursday and seen by Reuters, it described an Anonymous campaign commenced last December that appears to be ongoing. "The memo," reports Reuters, "described the attacks as 'a widespread problem that should be addressed.' It said the breach affected the U.S. Army, Department of Energy, Department of Health and Human Services, and perhaps many more agencies."
The memo gives advice on how system administrators can determine whether they have been breached; but an FBI spokeswoman declined to elaborate. There are suggestions that the Anonymous campaign concerned is #OpLastResort, which was launched in response to the death of Aaron Swartz; and it is believed that Lauri Love was involved in this campaign. It is thought that he and others took advantage of a flaw in Adobe's ColdFusion software to break into the networks and then leave backdoors so that they could return at will.
Reuters also mentions an internal email from Energy Secretary Ernest Moniz' chief of staff, Kevin Knobloch, which suggests "the stolen data included personal information on at least 104,000 employees, contractors, family members and others associated with the Department of Energy, along with information on almost 2,0000 [sic] bank accounts."
This would fit with the Lauri Love indictment. Ars Technica points to a passage, quoting "'You have no idea how much we can fuck with the US government if we wanted to,' Love told a hacking colleague in one exchange over Internet relay chat, according to the indictment. 'This... stuff is really sensitive. It's basically every piece of information you'd need to do full identity theft on any employee or contractor' for the hacked agency."
However – and perhaps with an eye to the way in which Sabu had been turned into an FBI informant – there are elements of Anonymous who are viewing the Reuters with report with some scepticism. "Anyone else, on reflection, find everything about this article suspicious?" tweeted Anonymous. "Oh, yeah. From the very first sentence. Not sure who's setting this up tho. Could be FBI could be DOJ. How do we find out?" was one reply.