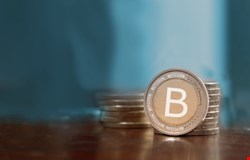 A statement from the German federal police (Bundeskriminalamt, or BKA) said yesterday that it was investigating three suspects and, in conjunction with the GSG-9, the German federal counter-terrorism unit, had arrested two on suspicion of computer fraud. It is not clear why a counter-terrorism unit was involved in the arrests (its own website says its primary purpose is to save endangered lives), nor why only two of the three suspects were taken into custody.
"The investigation", said the BKA, "has confirmed the suspicion that the perpetrator group had modified existing malware already widespread on the internet and developed a botnet." The primary purpose was to mine bitcoins.
Bitcoins are an unregulated electronic currency stored in cryptographically protected electronic wallets. They can be mined or traded, and are used both for online and some offline purchases. Mining bitcoins involves solving cryptographic puzzles. As more bitcoins come into existence, those puzzles are getting harder and the generated bitcoins getting fewer. But simultaneously, the value of existing bitcoins is increasing, having recently tipped $1000.
It is no longer realistic to mine botnets alone; yet the potential reward is increasing in real value. A dedicated and legal data center thought to be in Hong Kong was recently described, together with the evolution of a potentially unwanted program (PUP) using a bitcoin miner to 'pay' for the app. The bitcoin mining aspect of the PUP was apparently consuming up to 50% of the user's processing capacity.
In this latest instance the suspects developed a more traditional botnet specifically designed to do the mining for them.
Bitcoins, said BKA president Jörg Zierk, will keep law enforcement agencies busy in the future. "The relative anonymity of the currency facilitates money laundering and minimizes the risk of detection," he said. While the currency theoretically solves many of the structural problems inherent in national physical currencies, it is increasingly attracting law enforcement attention over its use to pay for illegal services and items on the dark net. The Silk Road, believed to be the most successful of the underground trading sites specializing in the sale of drugs but including guns, did all of its trades in bitcoins.