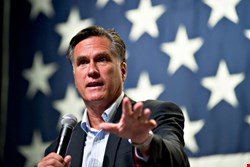 PcW has denied the breach. "We are aware of the allegations that have been made regarding improper access to our systems," said PwC in a statement. "We are working closely with the United States Secret Service, and at this time there is no evidence that our systems have been compromised or that there was any unauthorized access to the data in question."
While the hacking claim has drawn widespread skepticism, the group posted its methodology on Pastebin, and maintains that it will release all available files to the public on the Sept. 28 if the ransom isn't paid.
"Romney's 1040 tax returns were taken from the PWC office 8/25/2012 by gaining access to the third floor via a gentleman working on the 3rd floor of the building. Once on the 3rd floor, the team moved down the stairs to the 2nd floor and setup shop in an empty office room. During the night, suite 260 was entered, and all available 1040 tax forms for Romney were copied," it said.
"A package was sent to the PWC on suite 260 with a flash drive containing a copy of the 1040 files, plus copies were sent to the Democratic office in the county and copies were sent to the GOP office in the county at the beginning of the week also containing flash drives with copies of Romney's tax returns before 2010. A scanned signature image for Mitt Romney from the 1040 forms were scanned and included with the packages, taken from earlier 1040 tax forms gathered and stored on the flash drives."
The hackers are likely not affiliated with Anonymous, NullCrew or LulzSec, which have been making news lately with politically motivated hacks in support of Julian Assange and other hacking heroes in legal trouble, as well as in protest to perceived government corruption.
ABC news confirmed that the local Democratic and Republican parties in Williamson County, Tenn., where the PricewaterhouseCoopers office is located, both received packages, each containing a thumb drive and a letter demanding the ransom.
Williamson County Democratic Party Chairman Peter Burr said that the letter offered more than just the straightforward ransom that the GOP presumably received. "Then they went on to say that if you want to ensure that this is published before September 28th, you have the option of contributing a million dollars to this other Bitcoin account … and if you win the race … the other side will not be able to prevent the publication," he said.