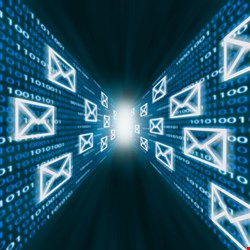 Wednesday saw the official launch of Tutanota – another free email service offering end-to-end encryption for those increasingly concerned about tales of state-sponsored snooping and financially motivated cybercrime.
Parent company Tutao was founded by three former informatics students at the L3S Research Center at Leibniz University Hanover in 2012.
Its servers are based in Germany which benefits customers two-fold: they are technically out of reach of the NSA and also subject to the country's strict privacy and data protection laws.
All data is encrypted automatically end-to-end, including subject line and attachments, so neither Tutao employees nor third parties are able to ready it.
Key generation takes place in the user's browser or Outlook Add-in, meaning even Tutao doesn't have access to customers' data. This also means the firm can't reset user passwords.
In an effort to improve its mainstream credentials, Tutanota – which means "secure message" in Latin – was designed with ease-of-use in mind.
That's why encryption takes place in the background without the need for any software downloads.
The service can also be used securely with external participants, who receive a text message link and a password that can be used to decrypt the original message and send another securely, the firm said.
Tutanota is certainly not the only secure email service following in the footsteps of the now defunct Lavabit. Others include Lavaboom and
ProtonMail
, all offering similar functionality and European datacenters.
However, Tutanota thinks it has what it takes to gain mainstream adoption, and is actively encouraging users to contact them with new feature suggestions.
The team behind the service is also developing new mobile apps and plans to open up the source code so that developers can create their own Tutanota app.
"We offer more storage (1 GB) for free. And we are a more experienced company," a spokesperson told Infosecurity by email.
"After having tested Tutanota well in Germany, we are now ready for mass sign-ups. By providing the best service and being fast in developing new features and adding top-level domains, we will soon gain mass adoption."