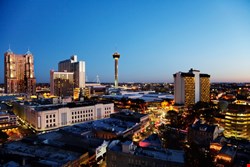 More than 180 colleges and universities and 2,000 undergraduate and graduate students participated in competitions that lead up to this year's national championship, which brought together the winners of 10 regional competitions held across the nation from February through early April.

"As every sector of our society increases its reliance on networks and devices that must be protected, this competition provides practical experience to help prepare the next generation of cybersecurity leaders to defend the ever growing internet of things against increasing threats," said Jack Harrington, vice president of Cyber and Special Missions within Raytheon Intelligence, Information and Services, in a statement. "The Raytheon National Collegiate Cyber Defense Competition brings together the best of the best. Watching these teams test their skills against government and industry cyber experts gives us confidence in our economic and national security."

"This was a great finale to an amazing season," said Dwayne Williams, director of NCCDC at the Center for Infrastructure Assurance and Security (CIAS) at the University of Texas at San Antonio (UTSA), which hosted the competition. "Every year the competition gets bigger and better. The competitors are better prepared, the teams are stronger, and the challenges more intense. We know our stakeholders have the resources and vision to help us take the CCDC program to the next level."
Modeled from real-world scenarios, the Raytheon NCCDC was the first national cybersecurity competition designed to test how well college students operate and manage a network infrastructure similar to the networks found in the commercial sector. At the start of the national championship on Friday, each eight-person team inherited an "operational" network for a mock online game hosting company.
The teams were required to keep up with the operational needs of their business and their user demands while maintaining service level agreements for all of their critical internet services. When they successfully completed business tasks and maintained services, the team earned points. When teams violated service level agreements, used recovery and restoration services, or when the team of government and industry cyber experts successfully penetrated a team's network, points were taken from their score.
At the end of the competition, the University of Central Florida team had earned the highest score and the right to take home the coveted Raytheon NCCDC Alamo Cup.
In addition to the University of Central Florida's top finish, the Rochester Institute of Technology placed second, and the University of Alaska, Fairbanks placed third.