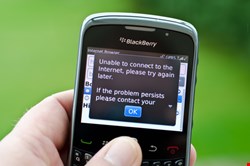 The beleaguered company – a sale is expected soon – is apparently seeking to beef up its security bona fides.
A 2012 report from International Data Corporation (IDC) forecast that the authentication market would realize more than $2.2 billion in revenues alone by 2016, driven by social networking, internet, cloud and mobile. "The inability to easily verify online identities with precision and a high degree of confidence remains a major concern," the firm said. "To address these challenges and also accommodate newer technology trends such as cloud and software as a service (SaaS), enterprise IT organizations must rethink how employee identities are configured and maintained within their infrastructures."
In an effort to address the need for universal, standard authentication approaches, FIDO members commit to share technology and collaborate to deliver open specifications for easy-to-use, universally strong authentication that allows users to move from site to site securely, without having to enter identifying information multiple times.
The FIDO protocol will support a full range of authentication technologies, including biometrics such as fingerprint scanners, voice and facial recognition, as well as existing solutions and communications standards, such as trusted platform modules (TPM), USB security tokens, near field communication (NFC), one time passwords (OTP), embedded secure elements (eSE), and many other existing and future technology options. The open protocol is designed to be extensible and to accommodate future innovation, as well as protect existing investments. The FIDO protocol also allows the interaction of technologies within a single infrastructure, enabling security options to be tailored to the distinct needs of each user and organization.
BlackBerry plans to implement the protocol for users of BlackBerry.com, BBM, BlackBerry Protect and other BlackBerry services around the world, as well as developers submitting apps on the BlackBerry World storefront.

"BlackBerry's addition to the FIDO Alliance moves the mobile industry closer to universal strong authentication using the open FIDO specifications that embrace all use cases," said Michael Barrett, FIDO Alliance president, in a statement. "We also prize BlackBerry among the Internet's leading relying parties, with the potential to allow millions of users to utilize open strong authentication."
BlackBerry hopes to solidify its reputation as a security-minded organization. It offers secure Enterprise Mobility Management (EMM) for BlackBerry, iOS and Android devices and has long been known to lock down corporate devices via its enterprise server configuration. President Obama's only choice for a mobile device upon first taking office was a hardened BlackBerry, and the devices were the first to be approved for military and Pentagon use. The Department of Defense also recently approved the company's EMM for use.
"BlackBerry is deeply committed to remaining the gold standard in mobile security while providing a model for others to adopt and follow," said Brian McBride, technical director for identity at BlackBerry.
The company is going to have to rely on this differentiator as it continues to struggle in the market. Its latest BB10 devices have failed to set fire to the market, and after a reorganization and management changes, has failed to compete effectively against Apple and Android in the consumer market. Returning to its enterprise roots may be its salvation, with security as one key. Rumors of a sale for the once-dominant Canadian player are looming large in the headlines. The Wall Street Journal reported that the company seeks a sale by November.