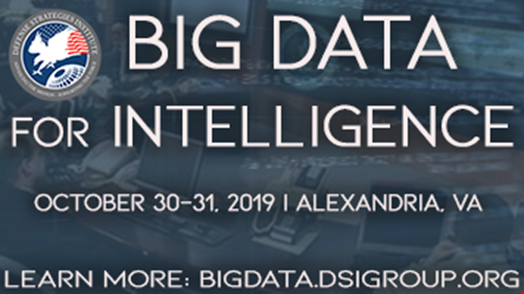 Defense Strategies Institute's 7th Annual Big Data for Intelligence Symposium will provide members of the Intelligence Community and the Department of Defense a forum to have an open discussion about the challenges and opportunities of turning vast amounts of raw data into actionable intelligence. This Symposium will provide the Intelligence Community, US military commands, government agencies, members of academia, and technology industry leaders the opportunity to explore ways to improve the way we utilize big data for intelligence.
Evolutions in technology have exponentially improved our data collection capabilities; now, the focus has shifted to our ability to securely store, retrieve, share, and analyze our data to create actionable intelligence while maximizing efficiency and security. The 2019 Symposium will address the technologies, policies, and frameworks currently in place to turn our big data into intelligence, as well as the steps we must take in the future to improve this process and maintain our operational advantage.
2019 Confirmed Speakers Include:
Russell "Russ" Travers, Acting Director, National Counterterrorism Center
Thomas Sasala, Chief Data Officer, US Navy
MajGen Mark Wise, USMC, DCG, MCCDC & ADC, CD&I
Leonel Garciga, Director of Information Management, HQDA-DCS-G2
Maria Voreh, Chief Data Officer, FBI
Kirk Brusman, Director, DAIIS
Download the Agenda for a complete list of speakers!