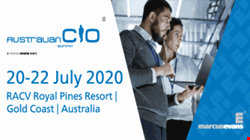 The Australian CIO Summit, a strictly closed-door event, is the premium forum bringing elite buyers and sellers together. 2020 will mark the 19th edition of the summit, the longest running event of its kind in the region.
The summit offers Enterprise & Government chief information officers and IT solution providers and consultants an intimate environment for a focused discussion of key new drivers for IT innovation.
Delegates will include VPs, Heads and Directors of Packaging, Package Design, Packaging Innovation, Packaging Development, Packaging R&D, Procurement/Packaging Procurement, Innovation, Design, Packaging Technology and Packaging Engineering.
For further details contact Anestis Hadjicostas (AnestisH@marcusevanscy.com) or visit our page: https://events.marcusevans-events.com/cio-australia-2020-infosecurity