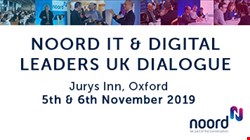 The IT & Digital Leaders UK Dialogue will bring together 60 industry leading CIOs, CDOs, Directors of IT and Transformation, CTOs; Heads of Enterprise Architecture and Heads of Technology from across the UK, offering exclusive networking and benchmarking opportunities with both your peers, and industry experts.
Researched with your peers, this programme delivers interactive case studies, workshops and one-to-one meetings, allowing you to head back to the office with actionable insights to not only develop your strategy, but put it into practice.
The role of technology, and the IT leader has changed significantly over the past 10 years. No longer is IT just a supporting function for business – IT and the technology leader are now part of the value chain, and intrinsic to meeting business goals and objectives. IT & Digital leaders need to be able to stay abreast of the latest developments and disruptions to ensure they can meet the demands of fast changing and evolving customer expectations and behaviours.