The YubiKey has changed the way people authenticate and securely access content and systems.
The YubiKey is the product of Yubico, and one of its co-inventors is Stina Ehrensvärd, who also acts as CEO and co-founder of the company. She has been named as one of Goldman Sachs' 2019 100 Most Intriguing Entrepreneurs, the 2018 Female Executive of the Year by the Women World Awards, and has featured in Forbes list of 50 Women-Led Startups That Are Crushing Tech.
With all of this recognition by the wider industry, as well as a well-used and respected product, how has she found the change in attitudes towards increased awareness of diversity in society, and opportunities for women in technology? Ahead of International Women's Day, Infosecurity spoke to Ehrensvärd to learn more about her experiences, the response to YubiKey and its wider adoption.
Do you feel that the number of roles available to women in IT and security has improved in the last few years?
IT security is a fast growing industry addressing one of the larger problems in our modern time. As a result, the number of roles available for women and the number of women who want to work in this field are both increasing.
Are you seeing an improvement in the opportunities for women, both in terms of roles and visibility as well as equality in pay and better working environments?
Some organizations and countries are lagging behind, but many of the world's most successful companies are being built by a diverse workforce in terms of gender, culture and age, and active programs exist to incentivize women in leadership.
Are we at a time when someone (regardless of gender) can come up with an invention like the YubiKey and have it taken seriously? Were there any barriers to adoption when you presented this initially?
Many inventors have and will continue to be questioned. When my husband Jakob and I invented the YubiKey, many people questioned this too. Some said mobile apps, biometrics and big data monitoring was the future for IT security, not a hardware key. Even when we eventually got renowned security experts to endorse the product, there were only a few services where you could use the key.
To reach the fast growing adoption we have today, it took more than a decade of continuous product and standards innovation, adding more features, communication methods and supporting services.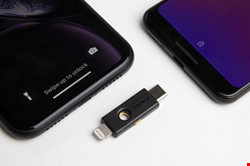 What about authentication more generally? The YubiKey 5Ci came out last year at a time when there are many more protocols available like FIDO and OpenPGP. Has that made adoption of the YubiKey by businesses and users easier?
Yubico is the leading inventor and contributor to the FIDO and WebAuthn open standards, and we added both these and the OpenPGP standard on the YubiKey for this to work for a wide range of services. Starting with USB and NFC connection, we launched 5Ci last year including Lightning connection.
The growing adoptions of the standards and YubiKeys supporting all computers, tablets and phones absolutely helped with adoption.
Your website says the YubiKey works with Gmail, Dropbox, Facebook, Salesforce and many other services. Do you find companies like those are actively looking for better solutions?
Online account takeovers, including via phishing, have become an increasing problem for all the major internet companies, both for their employees and end-users. The YubiKey is changing this. Last year, Google published a study with 300,000 users using FIDO security keys, the vast majority of them YubiKeys, and the results were the best ever in the IT security industry: zero account takeovers, 92% support reductions with tens of millions of dollars in cost savings, and four-times faster logins compared to the Google Authenticator mobile app.
Finally, what would you like to see changed in terms of women's representation in IT and security, and what can businesses be doing better?
The most successful people love what they do. There are fewer women than men who are passionate about IT technology and security, but the number is increasing. Parents, schools and businesses can continue to educate and encourage women to pursue a career in this field and the numbers will continue to rise.