Camille Stewart is nothing shy of an inspiration. It's no wonder that she considers "every mistake, every miss, every choice" a stepping stone to a career she is (rightfully) "really proud of." In her day job, she brings together Google's central security team and product security teams to help "secure products that billions of people use to live their lives"...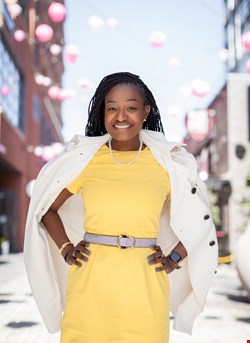 What is your dream project?
I have two aspirational projects. I would love to help small nations write cyber strategies. Also, I want to work with the Department of Education to create guidance for how schools across the country can improve the cyber curriculum.
Proudest achievement?
The impact of PPD-41, the Cybersecurity National Action Plan and the other work I did while working at the Department of Homeland Security in the Obama Administration.
What would you like to change about the sector?
Eradicating systemic racism, which goes beyond just making it more diverse and inclusive. It speaks to the need of recognizing how systemic racism has, and can, impact the policy and other decisions we've made over time that cause unintended harm. It also highlights the opportunities created by more inclusive representation and mindsets. #ShareTheMicInCyber starts that, but there is much more work to be done. I am so encouraged by the commitment demonstrated by much of the industry to do this work.
Who do you really admire in the industry?
Everyone in the #ShareTheMicInCyber community. The allies for their empathy, advocacy and introspection. The Black Practitioners for their vulnerability, self-investment and talent. The supporting organizations and funders for their investment in a new future. All of this is layered on top of their impact in the profession as practitioners keeping people safe every day.
Quick-fire Q&A:
Dream job? A business strategist or an entrepreneur.

Worst thing about your job? Security incidents that cause teams to miss holidays and work crazy hours like log4j.

Most misunderstood thing about infosec? You don't have to be traditionally technical to be successful and contribute to this industry.

Advice for industry n00bies? Meet and develop relationships with as many people as you can. Make bold asks to talk to people.

What was your route into cybersecurity? My dad is a computer scientist, so I always wanted to do something technical, but I also really wanted to be an attorney. Cybersecurity was the perfect coming together of a challenging problem space, technology, society and helping people.
​Bio: Camille Stewart is the global head of product security strategy at Google. She is also co-founder of #ShareTheMicInCyber and a cyber fellow at Harvard's Belfer Center. Camille has served across government and industry, including at the Department of Homeland Security under President Barack Obama, Capitol Hill and Deloitte. Camille serves on the board of directors for The International Foundation for Electoral Systems and GirlSecurity.
Follow Camille: @CamilleEsq