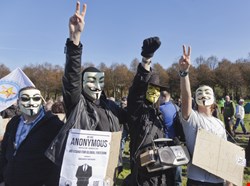 In the event there was no Westboro demonstration, and Anonymous has now launched #opAngel 2 with the intent to repeal or reform of the Computer Fraud and Abuse Act. "Anonymous is now preparing for a longer and more extensive battle within the U.S. legal system," it announced yesterday.
The Computer Fraud and Abuse Act is widely considered to be the cause of Swartz' suicide. He was being vigorously prosecuted (facing up to 35 years in jail) for what many believe was little more than disobeying terms of service. "It is clear that the punishment Swartz faced was not proportional to the crimes of which he was accused," said Anonymous yesterday. "It is our conclusion that dubious laws such as the Computer Fraud and Abuse Act serve only to provide prosecutors with the means to selectively target and unfairly punish online activists. Anonymous intends to continue Operation Angel with the goal of reforming these laws."
Anonymous announced three immediate plans. The first is the public endorsement of Aaron's Law, but warns that, "While the introduction of Congresswoman Zoe Lofgren's 'Aaron's Law' is a step in the right direction, it may not go far enough."
The second is threatened cyber attacks against MIT, the DoJ, and "specifically the official websites of prosecutors in Aaron Swartz case." Given the large and indiscriminate number of website defacements in the UK following the court rulings against Julian Assange, this is likely to spread beyond the immediate targets.
The third includes protests in the streets of Washington, D.C. – "at 600 Pennsylvania Ave (and Constitution Ave.) at 3pm EST" – and Boston ("at the John Joseph Moakley Courthouse"). "Congresswoman Lofgren is encouraged to attend the D.C. demonstration and we will provide her a platform to discuss Aaron's Law," says Anonymous.
Lofgren announced her proposed 'Aaron's Law' on Reddit. "I'm Rep Zoe Lofgren & I'm introducing 'Aaron's Law' to change the Computer Fraud and Abuse Act (CFAA)", she simply stated. Her announcement points to a Discussion Draft on a Bill with the intention "To amend title 18, United States Code, to exclude certain violations of agreements or contractual obligations, relating to Internet service, from the purview of certain criminal prohibitions, and for other purposes."
Aaron's Law is designed to prevent prosecution for violating terms of service conditions "if such violation constitutes the sole basis for determining that access to a protected computer is unauthorized."
Lisa Vaas in the Sophos NakedSecurity blog, commented, "'Aaron's Law' would partly de-fang Computer Fraud and Abuse Act," but added, "the CFAA is only one of hundreds of laws in a prosecutor's toolbox."