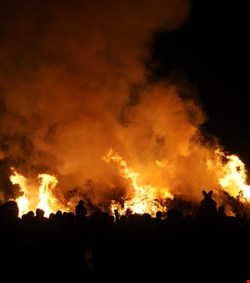 Anonymous is protesting "the outrageous treatment of their employees and their actions against many developers," it said in a YouTube video, which has now been taken down, Wired reported. Zynga, the company that pioneered social gaming with Facebook integration with favorites like Words with Friends, is closing its office in Boston and downsizing its office in Austin, while making other layoffs that will total around 1,000 people.
With third-quarter earnings indicating that the company is sitting on $1.6 billion in cash reserves, Anonymous has threated action, saying that it has documents proving that Zynga actually plans to simply outsource jobs to India and take profit. In retaliation, it said that it plans to release the games and effect a takedown of the social network starting on Nov. 5, which is Bonfire Night (Guy Fawkes Day) in the UK.
"We have come to believe that this action of Zynga will result in massive layoff of a thousand people and legal actions against everyone that speaks to the public about this plan," the video statement continued. "It will also come to an end of the US game market as we know it, as all this jobs will be replaced in other more convenient financial countries. With a billion dollars cash sitting in a bank, we do believe that such actions are an insult to the population and the behavior of corporations like Zynga must change."

However, the alleged documents that Anonymous claims to have that "confirm" the outsourcing strategy hardly read like legitimate corporate documents. The language is broken English, it could be said charitably:
"Following the preliminary announced of this week the final strategy for the next two quarters has been successfully set to delivery by November 23 an additional but of 800 jobs with further raising of new capital from the market to support businesses. We've identified our global gambling strategy with bwin.party and as we speak discussions are progressing with a partner to cover the US market. Work is focused and on-going to completely outsource our development teams in our offices in Bangalore, India to hedge our position in the long term."
Zynga, which offers ad-supported and paid versions of its games, has seen a 75% drop in its share price in the last year, and consecutive quarters of net loss, prompting the need to restructure. CEO Mark Pincus explained the company's plans in a letter to employees, with no mention of outsourcing: "We are sunsetting 13 older games and we're also significantly reducing our investment in The Ville. We are closing the Zynga Boston studio and proposing closures of the Zynga Japan and UK studios. Additionally, we are reducing staffing levels in our Austin studio. All of these represent terrific entrepreneurial teams, which make this decision so difficult."
He added, "In addition to these studios, we are also making a small number of partner team reductions.
In all, we will unfortunately be parting ways with approximately 5% of our full time workforce. We don't take these decisions lightly as we recognize the impact to our colleagues and friends who have been on this journey with us. We appreciate their amazing contributions and will miss them. This is the most painful part of an overall cost reduction plan that also includes significant cuts in spending on data hosting, advertising and outside services, primarily contractors.