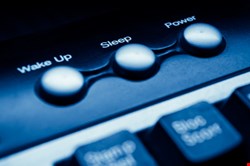 Just like the existing free avast! anti-virus, version 5.0 will have signatures and heuristics for anti-virus. Its web shield also detects threats out of the perimeter before they get to users' computers. Steckler said avast! anti-virus does that by looking for infections in the http streams.
"We find about 1 billion pieces of malware a month for our users. Of that 1bn, 86% are infected websites – the most part hijacked websites", Steckler said. The infections are almost always in java script. The avast! also has a network shield blocking users from accessing malware distribution sites.
avast! Free Antivirus 5.0 wakes your computer
Steckler told Infosecurity that avast! has added 'green features' such as the ability of the anti-virus scanner to "wake up the computer, do its scan and put the computer back to sleep".
Other new features in the free avast! 5 anti-virus, include behavioural detection. The anti-rootkit has been upgraded to real-time, so the security application is constantly watching for rootkit behaviour.
The updated heuristics function includes detection of potentially unwanted programmes (PUP). "This tends to be adware – it's not really malicious, but it's something users may not want", Steckler explained.
The new free avast! anti-virus also introduces 'trusted files'. Steckler said files that have not been changed or had a new exploit against them since the last scan, will not be re-scanned. Trusted files are placed in a white list, and a lot of these are signed Microsoft or Adobe files, or signed files from other trusted suppliers. This is a feature contributing to reduced virus scanning times.
The multi-threading is more granular than the previous version of the free anti-virus application. "If you scan a big file, we can split that file between as many cores on the machine as you want to use. That can really increase the scanning speed on big files and bulk scanning", Steckler said.
The free avast! 5.0 anti-virus is also much smaller and faster, Steckler said. "In our internal tests the new product is fast in some cases by about 50%. It's a number of cases where our speed is entirely dependent now on disc IO."
Update sizes have also been minimised through a new way of compacting and encrypting the virus database.
In addition, the anti-virus has a gaming mode, meaning that when users go into full screen mode or gaming mode, avast! suppresses alerts.
Furthermore, Steckler told Infosecurity that avast! worked with Intel to optimise the anti-virus product to work on the new i7 chips.
Finally, Steckler told Infosecurity, the free avast! 5.0 anti-virus has a new, more modern and easy to use interface than the previous one, which "looks like a car stereo".
Paid version and Security Suite
avast! will shortly release version 5 of its paid-for version and the new avast! Internet Security suite.
What product to choose?
Web browsing and email: avast! Free Antivirus 5.0

Online banking etc needing anti-virus, anti-spam and firewall: avast! Internet Security 5.0

Professional wanting internet security, but own firewall: avast! Pro Antivirus 5.0
The new paid-for anti-virus adds a sandbox which works in 32 and 64 bit mode. "You can for example open your browser in the sandbox and purposefully go to malicious sites or you can run applications in the sandbox and not harm the rest of your computer if you do run something malicious", Steckler said.
The third release is the internet security suite. "This one should go on limited release any day now. That takes the anti-virus and anti-spam, two-way silent firewall and application level firewall on the outbound side", the avast! CEO said.
AV Comparatives ranking
In a recent AV Comparatives rating on the ability of anti-virus programmes to clean up after an infection, avast! only got only 'average'. AV Comparatives provides independent tests of anti-virus applications.
Steckler indicated that the ranking was not a worry as in a previous comparison testing detection and stopping of malware and the generation of false positives, the avast! anti-virus got very good scores.
"I ask people: 'What would you rather have? Would you have a product that finds viruses and stops them, or do you want a product that after they've been found and stopped can go through and clean up your computer?' – Most people want protection", Steckler said.
avast! vs. Microsoft Security Essentials
Asked whether the release of Microsoft's free internet security package Microsoft Security Essentials had any impact on the free avast! anti-virus, Steckler said: "We don't really think it will. It takes a lot more than a free product to get users to use it, it has to be very good."
Steckler said that Microsoft Security Essentials has not received very good scores on virus detections, false positives and speed.
Microsoft had over 2.5 million downloads by week two after it was released, but Steckler said that his is not really a bit number. Especially when considering that of the downloads around 40-50% will actually install it, of which only 25-50% will use it. avast! in comparison, has an average of 30 million downloads a month resulting in about 14 million installations.
Looking ahead
Looking ahead, Steckler said threats have moved to internet and network based threats. "The challenge everyone is going to have is coming up with the new techniques to detect those threats before they get loaded into computers."
He said avast! still has room for improvements, but that "in most of the tests our free product is testing out better than most companies' paid products, so for us it's just making sure that we absolutely keep quality in there and commitment to our users."