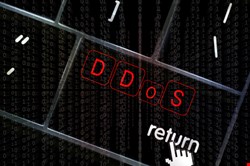 A major anti-Beijing news site and an online voting platform have been hit by major DDoS attacks rendering them unusable, just days before an unofficial referendum in Hong Kong on universal suffrage.
The websites of the popular Apple Daily newspaper in Hong Kong and Taiwan were both inaccessible for much of Wednesday, while the Public Opinion Programme at the University of Hong Kong was still down at the time of writing.
The university was appointed, along with Center for Social Policy Studies at the Hong Kong Polytechnic University, to carry out an online referendum on voting rights in the Special Administrative Region (SAR) of China.
Occupy Central, a movement striving for universal suffrage, organized the vote from June 20-22.
If overwhelming numbers vote in favour of electing Hong Kong's CEO by a one person one vote system – unlike the current election-by-committee process – then it would be a major embarrassment to Beijing.
China's leaders are adamant that any reform of the electoral system should only go as far as choosing candidates from a pre-approved shortlist.
Amazon Web Services (AWS), Cloudflare and UDomain all suffered major DDoS attacks on June 14 and 15 in what many are seeing as a deliberate attempt to disrupt the vote, according to
Global Voices Online
.
AWS recorded 10 billion system requests over 20 hours, CloudFare recorded a 75Gb DDoS per second and UDomain a 10Gb per second attack.
As a result, or possibly because of pressure from Beijing, AWS and UDomain have withdrawn hosting support for the university, the report claimed.
Meanwhile, Apple Daily boss and outspoken chairman of the Next Media group, Jimmy Lai, refused to openly blame the Chinese Communist Party for the DDoS on his Hong Kong and Taiwan news sites.
"Whoever is behind it, it's obvious that he wants to muzzle the voice for the referendum," he claimed, according to the New York Times. "This kind of scale of attack is currently out of our technical power to stop. We're searching for better defense
."
As a result of the disruption the referendum organizers have extended the voting period from three to ten days.
This is not the first time that Hong Kong University's
Public Opinion Programme has been hit by a DDoS.
In a similar incident back in 2012, a site run by the department was struck when it tried to hold a universal suffrage election for the new CEO in parallel with the officially sanctioned one.