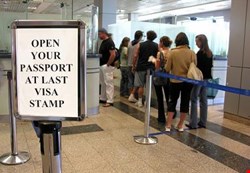 Terry Hartmann, director for secure identification and biometrics for vendor Unisys, told the conference that travellers are checked half a dozen times before boarding a flight, with more checks on arrival. "An ideal situation would be that your boarding pass is a vehicle which can tell where you are in the airport," using an active RFID tag, he said.
Such multiple checks even apply for those using registration schemes such as national and regional government systems, airline frequent flier cards or airport schemes. "What our goal needs to be is an international trusted and interoperable system," he said.
Peter Went, chief executive of Dutch consultancy WCC Smart Search and Match, said checks on travellers could be joined to some extent. For example, rather than Customs checking someone against its entire black-list when he or she presents themselves, it could get data on everyone coming off a flight and check them in advance.
Specifically, biometric checks work much faster when checking against a shorter list: "If you measure against a small database of those you expect, it is much faster," he said.
Went said that Dutch concerns over personal privacy are culturally engrained, after the country's highly accurate census, which included religion, was exploited by the Nazis to find Jews during the Second World War. "What I'm arguing is not to disclose more information," he said, but to join the dots between agencies involved in transport. This would allow passengers to opt-in to data-sharing so they could get through an airport faster.
Raymond Wong, former chairman of the IT division of the Hong Kong Institution of Engineers, described his recent work establishing biometric checks at the city's borders, where speed and efficiency has been the priority. At 11 control points, including the main train station, the 'e-Channel' programme uses automated gates opened by smart identity cards and either thumbprint.
Wong said that passengers go through two gates, one for the card and one for the thumbprint. "It's to speed up the whole process," he said, as someone else can provide a card while a first person is providing a thumbprint. "On average, it's only about seven to eight seconds per passenger," he added, although there are plans to reduce this to five to six seconds.
Meanwhile, Hong Kong is implementing road check-points with mainland China using automated facial checks of passengers, with thumbprints also used for drivers. The biometric data for drivers is retrieved through automatic number plate recognition technology and, for those other than the owner of a vehicle, passengers call in advance with their identity card number to inform the authorities that they are approaching the border.