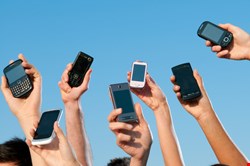 The two have announced plans to introduce legislation to mandate the implementation of "theft-deterring technological solutions," in order to give smartphone owners a way to remotely render phones inoperable if they are stolen. The bill will be formally introduced in January at the start of the 2014 legislative session.
"One of the top catalysts for street crime in many California cities is smartphone theft, and these crimes are becoming increasingly violent," said Leno. "We cannot continue to ignore our ability to utilize existing technology to stop cell phone thieves in their tracks. It is time to act on this serious public safety threat to our communities."
According to the Federal Communications Commission, cell phone thefts account for 30% to 40% of all robberies nationwide. In San Francisco alone, more than 50% of all robberies involve the theft of a mobile device, and in Los Angeles cell phone thefts are up almost 12% in the last year.
"These crimes cost U.S. consumers more than $30 billion in 2012, even though technology already exists that can render stolen devices useless," Leno pointed out.
The move comes after the big five wireless carriers rejected Samsung's homegrown kill switch for its Android phones. AT&T, Verizon, T-Mobile, Sprint and US Cellular all refused to support it, saying that they preferred a registry approach where users could log their phone as stolen – and thus prevent stolen goods from being fenced. There's no saying that thieves couldn't sell phones abroad, however.
The mobile industry argues that a direct solution that can be initiated by users could allow hackers to take control of the feature and disable phones for customers, "including the phones used by officials in the Department of Defense and law enforcement," according to wireless trade group CTIA.
Gascon has been vocal about the issue, going so far as to accuse mobile operators of being afraid of losing revenue based on insurance and replacement phones for those stolen. "We're talking about a $60-billion-a-year industry, and about a half of that seems to be attached to the replacement of phones that are being stolen," he said.
This is, of course, strictly a non-Apple issue. The Cupertino giant debuted Activation Lock in iOS 7, so that if device is lost or stolen it cannot be reprogrammed without an Apple ID and Password.
"I appreciate the efforts that many of the manufacturers are making, but the deadline we agreed upon is rapidly approaching and most do not have a technological solution in place," said Gascón. "Californians continue to be victimized at an alarming rate, and this legislation will compel the industry to make the safety of their customers a priority."