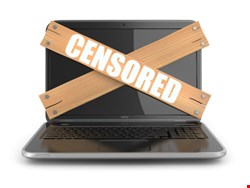 Freedom of speech website Cryptome was taken offline for nearly two days by its ISP after it found malware on the site, in what co-founder John Young described as a censorship by the backdoor.
The site was taken down by ISP Network Solutions, which is owned by Web.com, at 12.57pm local time after the provider claimed to have found a malicious looking PHP file, Young said in a
statement
.
"Nothing was sent before then about the file, that it should be removed or that a suspension would occur. By the time the email was read the site was shut. Immediately after reading the email the PHP file was removed by FTP and a response to NetSol was emailed reporting the removal," he continued.
"Later that day Cryptome spoke by telephone to a NetSol customer support representative who confirmed Cryptome's response had been received. He reaffirmed the email's statement that it would take 24-48 hours for reactivation of the site."
Young argued that the way the incident was handled by the ISP amounted to "unwarranted censorship", and that no other shutdown or attack on Cryptome over the past 18 years since its founding had been "as sudden and unresponsive".
"Cryptome sees the Web.com and NetSol suspension of Cryptome.org without prior notice to be as illegal and vicious as an attack by government, corporation, hacker or spy, and the attack is suspected of being on behalf of those who hope to censor and close sites like Cryptome using craven and shallow technical justifications," Young said.
"Use of technical rationales to unpremeditatedly attack and censor are now commonplace by telecommunications providers, similar to the technical transgressions against the public by NSA and FBI, blessed by secret FISC orders and willful secret cooperation of service providers. This is an instance of that violation of customer trust."
Young threatened to terminate his NetSol contract if the ISP didn't get the site back online, which at the time of writing it appeared to be.
There are indications, however, that Young may have decided to offer the site's content a different way going forward.
A
tweet
posted yesterday read: "Cryptome has been dispersed. Files will appear expectedly and unexpectedly at diverse locations online and off."
Founded in 1996, Cryptome publishes documents banned by governments worldwide, especially those relating to freedom of expression, privacy, cryptology, dual-use technologies, national security, intelligence, and secret governance.